Sanlúcar de Barrameda
Jo Quintero reports...
Situated at the northern tip of the sherry triangle, 8 km from Chipiona, the delightful small town of Sanlúcar de Barrameda is flanked by the Guadalquivir estuary. The speciality tipple here is the distinctive manzanilla wine, which acquires its dry, slightly salty tang from the seaside environment and the moist poniente wind. The town is equally famed for its excellent seafood, for which manzanilla is (coincidentally!) the ideal accompaniment.
History
The town dates back to Roman times. Later the Moors built a defensive fort here which evolved into a major port under the Catholics. Columbus set sail from Sanlúcar in 1498 and, a few decades later, the Portuguese, Ferdinand Magellan set off to circumnavigate the globe from here, in search of a westerly route to the spice islands of Indonesia. Unfortunately, he was killed by local Indians in the Philippines.
Orientation
Today, the town is divided into the older quarter, the Barrio Alto where most of the interesting sights can be seen and the newer Barrio Bajo, closer to the river. The Sanlúcar beaches are also magnificent and stretch several kilometres to the south-west, while the former port and fishing quarter, the Bajo de Guía is unsurprisingly where some of the best seafood restaurants can be found.
Ferry to Doñana
You can also catch the ferry from Playa Bajo de Guia over the river to the Parque Nacional de Doñana. This is a spectacle in the days leading up to Rocio when the pilgrims cross the river with their horses here at the end of the tree-lined Calzada del Ejército.
Horseraces on the beach
Sanlúcar is also noted for its horse racing which dates back to 1845 and takes place along a 2,000 stretch of beach at the mouth of the Río Guadalquivir during the month of August, daily from 6.00 pm, on the 2nd and 4th weekends of the month (Thursday to Saturday). More>
Art Galleries
A permanent exhibition of religious art at the Convento de Carmelitas Descalzas includes paintings, sculptures, devotional objects and works of embroidery and metal created by local artisans. Calle Descalzas.
Situated in a 19th-century building, the Museo Barbadillo de la Manzanilla is dedicated to all aspects of wine, from growing the grapes to bottling and marketing. The exhibits, which include many ancient tools and a large collection of photographs, also follow the history of the Barbadillo family through the evolution of manzanilla.
Calle Sevilla 6 (opposite Castillo de Santiago). Tel. 956 385 500.
Open Tuesday to Saturday, normal working hours. Guided tours in English and Spanish.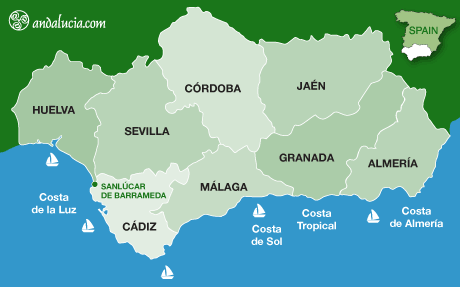 Destinations