ALMERIA CITY
by Saskia Mier
Almeria is Andalusia's most eastern capital. Years ago, it was not as well known by tourists as other provincial capitals such as Malaga, Seville, or even Granada, however, that has changed drastically in the last while with its growth as a major holiday area. The city is situated at the foot of a mountain range which is crowned by the magnificent Alcazaba, the second largest Muslim fortress in Andalusia after the Alhambra in Granada. It has about 198, 500 inhabitants.
GASTRONOMY
In a few decades, Almeria's gastronomy has undergone a spectacular transformation. From rather scarce products from the land and sea, it has passed to intensive agricultural production and, finally, to products of extraordinary quality that are exported all over the world. More>
FESTIVALS
Popular festivals in Almeria are Semana Santa, Carnaval, Noche de San Juan and Feria y Fiestas. More>
TOURIST OFFICE
The tourist office of Almeria is located in Paseo de Almería, 12. More>
NEARBY PLACES
The neighbouring villages to Almeria are Aguadulce, Huércal de Almería and Retamar.
Almería begs to be explored. Spend some time enjoying its winding streets, visiting its fine museums, and dining out on the local cuisine. You will want to return time and time again.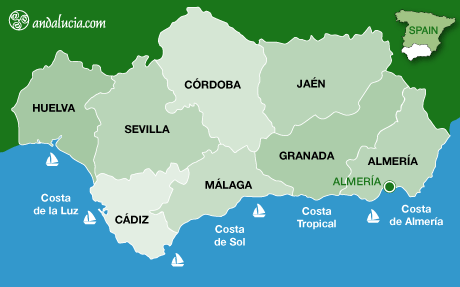 Destinations