Overview of Almeria City
The city of Almería is Andalucia's most eastern capital. Years ago, it was not as well known by tourists as other capitals like Malaga, Sevillle, or Granada. However, that has changed drastically in the last while with its growth as a major holiday area.
Almería holds a great deal of charm and is steeped in history. It is located at the foot of a mountain range which is crowned by the magnificent Alcazaba, an Arab fortress built by the Caliph of Cordoba, Abd-erRahman with three huge walled enclosures (in the second of which are remains of a mosque, converted to a chapel by the Catholic kings). The Alcazaba is the second largest Muslim fortress in Andalucia behind the Alhambra in Granada. 
Almería begs to be explored. Spend some time enjoying its winding streets, visiting its fine museums, and dining out on the local cuisine. You will want to return time and time again.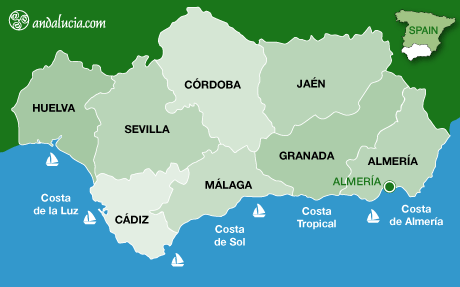 Destinations