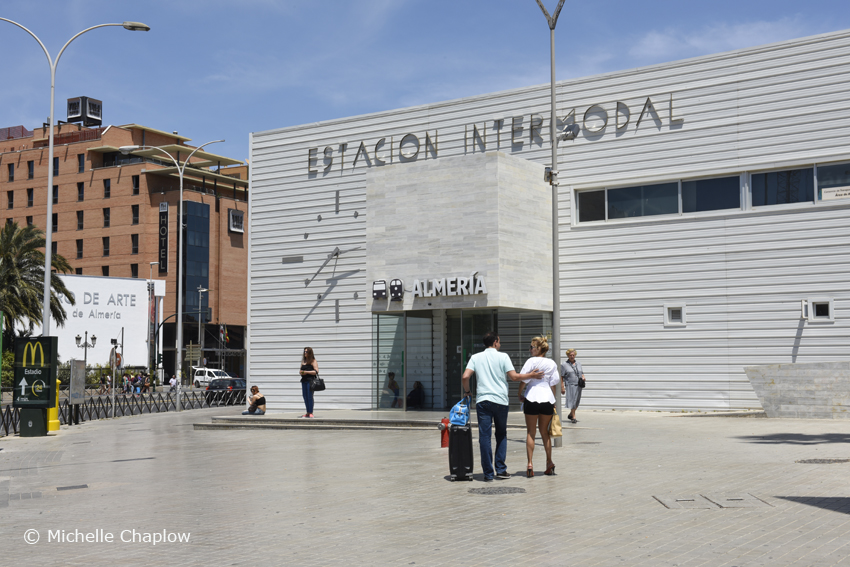 Almeria Train Station
The train station is located within the same building as the bus station, in the Estación Intermodal. ( Intermodal station; meaning bus and train combined station). the building opened in 2005 as the first of its type in Spain. It is open from 05.00 to 24.00 hrs. Here is a plan of the station.  You are able to take buses from here around the city, to local towns and to the airport. For bus times, see the bus timetables below:
It is actually located next to the 'old train station' a beautiful ornate brick listed building which is a tourist attraction. More>
A single track line run into the Almeria train station on the line Linares-Baeza-Almería. the line was electrified for the mineral trains in 1911 as far as the mines at El Marquesado, near Guadix. This was Spain's first electricfied railway.  The passenger trains continue to Guadix and beyond and are diesel powered. Although a terminus for passengers the station is configured as a through station. This is for freight to continue to the port of Almeria. The mines closed in 1996.   The history of the railway line is recorded in the book "El Todo Train" and in English on the Faydon website.
Almeria Train Services
AVE
There is no AVE service to Almeria. A service is projected and it will link to the AVE high speed train network through Murcia and join the network near Alicante. This line as part of the 'Corredor Mediterráneo de Alta Velocidad' connects Almeria with Murcia and the AVE line Madrid-Castilla La Mancha-Valenciana-Murcia. The intermediate stops will be Vera-Almanzora and Lorca.
Talgo
Talgo is the name of high-speed services (though not as fast as the AVE or Alvia or Altaria) which connects Almeria with the Spanish capital, Madrid. The trains are made up from a diesel RENFE locomotive pulling Talgo passenger carriages. Talgo Class IV, VI, VII.
Madrid-Almeria 
Time taken: 6hrs 30 mins
Freguency: 2 trains daily
Stops: Madrid-Chamartin, Madrid-Atocha-Cercanias, Alcazar de San Juan, Manzanares, Valdepeñas, Vilches, Linares-Baeza, Jodar-Ubeda, Cabra de Santo Cristo y Alicun, Moreda. Guadix, Finana, Gador, Huercal-Viator, Almeria.   (Bold indicates stations that all trains stop)

Buy Tickets Online >
Medium Distance
Seville Santa Justa to Almeria via Antequera Santa Ana and Granada Four trains a day.
Seville to Almeria
Time: 5hr 30 mins
Frequency: four trains daily
Stops Seville Santa Justa, San Bernardo, Dos Hermanas, Marchena, Osuna, Pedrera, Antequera Santa Ana, Antequera Cuidad, Loja-San Francisco, Granada, Iznalloz, Benalua, Guadix, Fiñana, Gergal, Gador.
The Antequera to Granada section of this line has not had a regional train service since the line was closed in 2015 due to construction of the AVE line from Antequera to Granada. Renfe have not confirmed when the service will be restored. It is hoped the service will be resumed in late 2019 although it is entirely possible that it will never be resumed. Due to the low frequency of AVE trains on the new line it is more likely that a dual gauge Talgo style service. will be introduced. Currently Passengers who book a regional ticket on this route will take a special bus service from Antequera to Granada. The AVE service runs on the Antequera to Granada line. Read a detailed description of this line.
Location
PLAZA ESTACION FERROCARRIL, S/N
Almería
04006- Almería
Open from: 05:00 to 24:00 Hrs
Tel: Adif Stations 912 432 343
Tel: Renfe Tickets & Trains 912 320 320
Destinations