Overview of Huelva
Huelva may lack the region's star attractions of other provincial capitals, but once you get past the industrial sprawl on its outskirts, the centre is a pleasant place with many pretty plazas, absorbing historical monuments and, as you'd expect from a city with a bustling port, a wealth of seafood bars and restaurants.
The mineral wealth of the area north of Huelva brought Phoenicians, Greeks and Romans who, along with the later arrivals of the Moors, left their archaeological mark on the city. Visit the Museo de Huelva to see evidence of their stay in Huelva. Exploitation of copper deposits much later by British interests made Huelva into something of a boom town. Many grand buildings were erected in the late 19th century and the early 20th century, like the Casa Colón, the imposing Gran Teatro and the Clínica Sanz de Frutos.
Located on the mouth of the Odiel and Tinto estuary, Huelva has been an important port since the Phoenicians established it as a major trading post. It reached its zenith in the 15th century, however, with the discovery of America by Christopher Columbus, who recruited local sailors for his voyage and, on his departure and return, prayed to the city's patron saint at the Sanctuario de Nuestra Señora la Virgen de la Cinta. Today he is commemorated in the Monumento a Colón.

The Muelle is a popular attraction in Huelva.
Another pivotal point in the port's history was the industrial development in the city in the late 19th century due to mining activity to the north. Foreign mining companies built impressive ironwork loading quays that extended into the estuary that, although decaying, still exist today. The grand neo-Moorish train station, the Estación de Sevilla, was also erected around this time.
Badly damaged in the 1755 Lisbon earthquake, Huelva lacks the architectural splendour of Seville. It does possess, however, several notable churches, like the oldest one in the city, the Iglesia de San Pedro, and the Catedral de la Merced, with a magnificent Baroque façade.
The hub of the city centre today is the palm-lined square, the Plaza de las Monjas, close to the pedestrianized shopping district, along the streets of Concepción to Berdigón. The centre is relatively compact so you can see the sights without having to hop on a bus, although you may want to for the Sanctuario de la Cinta, located 3km out of town.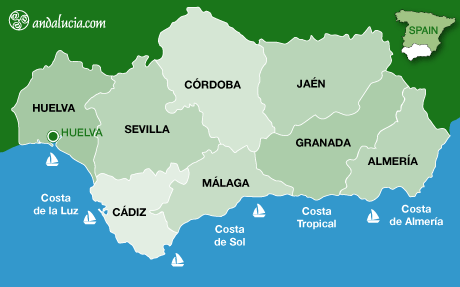 Hover the cursor over Huelva to see bigger map and click to go to the maps page.
Destinations