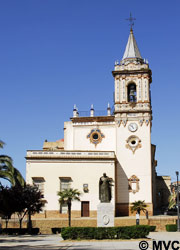 The Chruch of San Pedro, Huelva
Iglesia de San Pedro
Huelva's oldest parish church, the Iglesia de San Pedro, was constructed in the 15th and 16th centuries on a hilltop site of a mosque and next to the remains of a medieval fortress. It faces a pleasant palm tree-lined square, the Plaza San Pedro. On the northern side of the church is the Cabezo de San Pedro, a wooded hill with good views over the city. In 1999 the church was designated a Site of Cultural Interest.
In keeping with the Mudéjar style, the church has a carved artesanado ceiling with 17th-century decorated crosspieces in its central nave, three naves separated by arches and a polygonal apse. In the 18th century its tower underwent a Baroque facelift by Pedro de Silva, a renowned Sevillan architect in charge of rebuilding many churches like this one, including Huelva's cathedral, which had been badly damaged in the 1755 Lisbon earthquake. The belfry is embellished with ornate decorative patterns and a blue-and-white tiled spire.
The two main lateral doorways were designed by Antonio de Figueroa in the early 1770s. Subsequent renovations have given this church a mix of architectural styles. Its latest was the renovation of its exterior walls, which have been re-rendered leaving some of the original brickwork exposed.
One of the two chapels at the end of the lateral naves inside is dedicated to Huelva's patron saint, the Virgen de la Cinta. There is also a Mexican silver tabernacle.
Significant archeological remains have been discovered in the Cabezo de San Pedro, which has been declared a "Site of Historical Interest". The remains show that this area was settled by the earliest known inhabitants of Huelva, in the Bronze Age, who used it as a defensive enclosure. It was subsequently occupied by the Romans and then the Moors.
In the late 16th century the castle was property of the Duke of Medina Sidonia, who ordered renovations so that his son could live there. In 1640 the castle was used as part of the defence against Portugal and then abandoned. It fell into such bad disrepair that by the late 19th century all evidence of the castle's existence had disappeared.
The church can be visited during Mass, at 1930 Monday to Saturday; 1030, 1130, 1230 and 1930 on Sunday and holidays.
Destinations