CASA COLÓN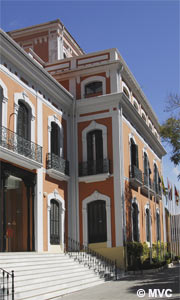 "Casa Colón" (Columbus House)
A symbol of British power in late 19th-century Huelva, the Casa Colón is the grandest of all the buildings constructed by the city's bourgeoisie around the same time. It is an imposing presence at the beginning of the Alameda Sundheim, with a terracotta façade and ornate wrought-iron balconies.
"Casa Colón" (Columbus House) was inaugurated as the Gran Hotel Colón in 1883, ready to celebrate the 400th anniversary of the discovery of America in 1892. In the late 19th century Huelva was anxious to create a suitably luxurious hotel for receiving its increasing numbers of foreign visitors interested in investing in the mining industry, so the Huelva Hotel Company was born in 1881. Architect José Pérez Santamaría was commissioned the to design the building.
Unfortunately it was not successful as a hotel so was sold shortly afterwards to the Río Tinto Company who used it for offices and housing their mining management staff. One section on the northern side was used as a social club, with a dancehall, library and billiards hall, with a tennis court outside.
The building consists of four individual sections around a central courtyard with elegant gardens and a fountain. In 1992, the building was refurbished as part of the 500th anniversary celebrations, and the former northern section was replaced by a modern exhibition and conference centre, the site of the major Latin American Film Festival in November.
Destinations