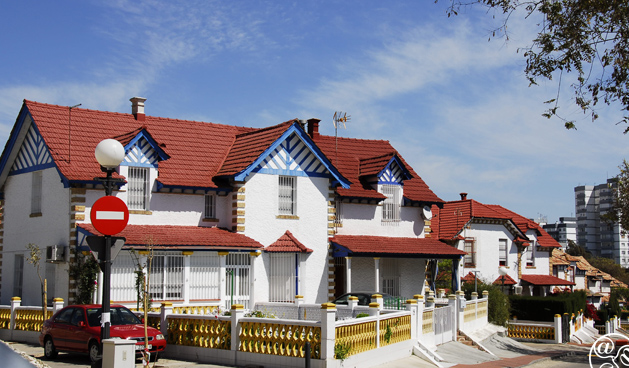 Barrio de Reina Victoria
The Barrio de Reina Victoria, otherwise known as the "Barrio Obrero" (Workers' District), is a testament to its name: an example of a Victorian English suburb superimposed onto an Andalucian landscape. Situated at the eastern end of Alameda Sundheim, a short walk from the centre, it's worth a visit for its peculiar mix of Victorian colonial architecture and bright primary colours that the current occupiers have used to enliven their dormer windows and front doors.
The Rio Tinto Company started building the district in 1916 to house its British workers and, like the Barrio Bellavista in Río Tinto, it seems like a colonial outpost of the British Empire. The British architect RH Morgan, who helped design the area, was famous for creating buildings in his country's colonial architectural style. The two other architects working on the project were from Huelva, Aguado and Pérez Carasa, and the houses retain some Spanish touches, like the whitewashed walls of the houses.
This area has houses and bungalows laid out on a rectilinear grid of streets, unimaginatively named after letters of the alphabet, and a distinctively British suburban atmosphere. The current inhabitants are the descendants of the mining company employees. In 2002 the Barrio was declared a "Site of Historical Interest".
Destinations