Overview of Nerja
Nerja is a picturesque coastal resort town some 50 kilometres east of Málaga city conected by the A-7 coastal highway. It marks the eastern limit of Málaga provine's Costa del Sol. Once a sleepy fishing village, the town now has a resident population of over 25,000.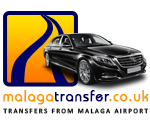 Book your private taxis in Nerja at the lowest rates with MalagaTransfer.co.uk. Get a 10% discount on round trip transfers, multilingual drivers and pay on arrival.

Low Cost airport transfersand coach service in Spain. Flybus airport coaches offer convenient and comfortable bus service. Check in online.
Flanked by a dramatic mountain range, Sierra Almijara, to the east, the town has, fortunately, managed to avoid being blighted by the concrete high-rise scenario which has been the inevitable result of the tourist boom in some of the coastal resorts. The old quarter of the town is still virtually unchanged with narrow, winding streets, whitewashed houses with wrought iron terraces overflowing with geraniums, on which a canary can sometimes be heard singing...
However, the heart of Nerja is its spectacular Balcón de Europa the "Balcony of Europe", a magnificent promenade along the edge of a towering cliff, once the site of the great Moorish castle, with sweeping panoramic views of the Mediterranean and the small coves and beaches below, against an awesome backdrop of hazy blue mountains.
monuments
The town's monuments include the 17th century Church of El Salvador, in a style which is a charming mixture of baroque and Moorish, or mudéjar, and the beautiful Gardens of Capistrano Playa, which descend to Burriana Beach.
Sierras Above Nerja
The Sierras of Tejeda, Almijara and Almara were designated a natural park in 1999, this large and rugged mountainous region of 40,663ha stretches across the provincial border of Granada and Malaga. Its western part in Malaga province is known as the Axarquía and is famous for its attractive villages dating from Moorish times. It is also superb hiking country and its numerous steep mountainsides make it ideal for climbers. Its highest peak is La Maroma, at 2,080m. Accessible from Nerja and Vélez-Málaga on the Costa del Sol. Routes range from easy strolls to strenuous climbs. The mountains are largely limestone, with some summits reaching over 2000m.
Nerja Restaurants
Nerja cuisine includes several specialities including De La Doncella (red mullet) and pescaito frito (fried fish) and ranging from top international cuisine to the ubiquitous sausage, eggs and chips! There is no shortage of restaurants to choose from. 
Getting around Nerja
Information on travelling in Nerja with things such as horse riding, car rental and bus services can be found on our getting around page. More >
Hire a car is best way to get around! Travel with ease and enjoy the beautiful views! Consult our general Car Hire page for the best deals within Andalucia.
Next Places
The next places along the coast are Almuñecar to the East and Torrox and Torre del Mar to the West.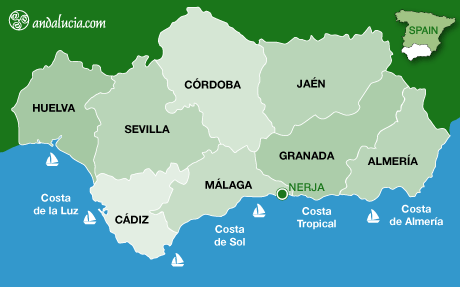 Destinations