RESTAURANTS in Nerja
Being a popular tourist destination both off-season and during the summer months, Nerja has a good selection of restaurants to choose from, ranging from beach chiringuitos to more luxurious dining options. Restaurants in Nerja serve fresh seafood caught daily, including squid and octopus dishes, as well as a lot of paella.
Below is our selection of quality restaurants in Nerja. Enjoy.
Reserve Online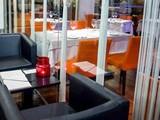 Sollun
The Sollun restaurant is a winning combination of creative cooking ideas and quality produce, both of which are brought by head chef Juan Quintanilla. The menu includes a variety of Mediterranean and international foods which appeal to a wide range of palates, and each dish is presented in an innovative way with different aesthetics.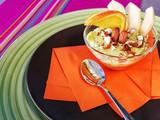 Casa Veggy
Vegetarian restaurant serving Italian style food with gnocchi, and pasta, burgers and salads. Small establishment but with friendly staff and a relaxed atmosphere.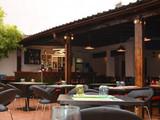 Mum
Curry, biryani, tandoori and other Hindu dishes can all be found Mum, Nerja. This restaurant is centrally located, just a few meters from the Balcón de Europa. The interior is decorated with typical murals and paintings from India, and along with the terrace on the outside Mum offers a pleasant and unique dining atmosphere.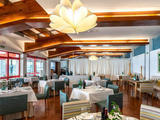 Restaurante Parador de Nerja
With splendid views of the Mediterranean Sea, the Parador Nerja restaurant is located in the ideal spot to sample the best of Mediterranean cuisine in the area, right next to the beach of one of the most charming towns of Malaga.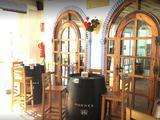 Los Huertos del Sevillano
Warm and friendly restaurant serving both tapas and full meals. A combination of international offerings and traditional Andalusian dishes, bound to please a multitude of diners.
More Restaurants
Restaurant 34 - Hotel Carabeo
This charming restaurant with garden & patio is located in the Hotel Carabeo in Nerja. Creative mediterranean cuisine with the emphasis on fresh local produce. Excellent cellar. Consistently featured in the Michellin Guide.
Calle Hernando de Carabeo, 34. Nerja
Tel: +34 952 525 444. 

Fusion Food & Lounge
With chef Fredrik Kullberg in charge, Fusion produces some of the tastiest and most creative food in Nerja. A variety of seafood and meat dishes. Dinner only. Reservation necessary. c.c.´s accepted.
Plaza del Olvido 10, 29780. Nerja
Tel: +34 952 520 787. 

Bakus
Bistro restaurant serving both fish and meat dishes, Bakus does not disappoint. Innovative dishes at good prices. Tapas available at the bar. Reservations suggested. c.c.´s accepted. 
Prolongacion Hernando de Carabeo, 2 | Edf. Rocamar bajo, 29780 Nerja
Tel: +34 952 527 179. 

Oliva
Serving a mixture of seafood and meat dishes, Oliva has original recipes and good presentation, as well as an extensive wine list. Lunch & dinner, open every day. c.c.´s accepted.  
Calle Pintada, 7. Nerja
Tel: +34 952 522 988. 

El Avalon
Featuring a terrace and bar, El Avalon restaurant serves traditional Andalucian food. Come here for a light lunch or dine in the beautiful gardens. Breakfast, lunch and dinner every day of the week during Summer, and from Wenesday to Sunday in Winter.
Punta Lara 22, Nerja 29780. Nerja
Tel: +34 952 520 698. 
Chiringuito Ayo
Internationally recognised, this chiringuito has been around since 1969 and is famous for the gigantic paellas that are made here using fresh seafood caught daily. A must-try. Open all year round.
Playa Burriana, 29780. Nerja
Tel: +34 952 522 289. 

Vitaliano
A friendly Italian restaurant serving home-made dishes of good quality. Great seafood as well as pizzas, pastas and desserts. 
Plaza Los Cangrejos | Calle Castilla Perez 21, 29780. Nerja
Tel: +34 952 528 341. 

Bistro Sevillano
Situated in picturesque old quarter of Nerja, the restaurant offers over three floors and a stuning terrace a selection of traditional southern andalucian cuisine. Great value for your money and big portions. Good atmosphere and friendly staff. Lunch & dinner Mon-Sat.
Gloria 15, 29780. Nerja
Tel: +34 952 521 955. Map

Henley's
Open from 09.30am to 10.30pm. Light snacks, afternoon teas & evening meals c.c.'s accepted. rec. Reservations. A new attractive restaurant with plenty to tempt everyone
Calle Cristo, 10.Nerja
Tel: +34 619 476 204. 
The Rendezvous Family Restaurant
Dinner only. International cuisine & Sunday Roasts.
Closed Mondays. c.c.'s accepted. rec. Reservations.
A friendly & welcoming family restaurant with good value home made food
Calle Cristo, 58. Nerja
Telf.: +34 952 526 010
The Rendezvous Bistro
Dinner only. International cuisine including vegetarian & children's menu.
Closed Mondays. c.c.'s accepted. rec. Reservations
A well run & friendly bistro with a secluded terrace area, sister restaurant to the above mentioned.
Corner of Calle Cristo & Calle Gloria. Nerja
Telf.: +34 952 526 850
The White Truffle
The White Truffle is the creation of Lisa Hughes and Sian Bennett. They both enjoy eating and entertaining and believe restaurants do not allow you to relax enjoy the whole evening, instead they try and rush you out. We want you to enjoy your dining experience, your table is yours for as long as you wish to use it.
Calle Manuel Marín 12 bajo. Nerja.
Telf.: +34 952 53 39 09 Map
Destinations