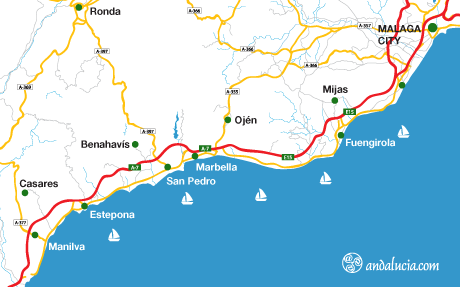 West Costa del Sol.
Costa del Sol destinations
The Costa de Sol can be divided into two parts: East and West, of Malaga city and Malaga airport which lies at the centre.
West Costa del Sol
The western Costa de Sol is the more popular, extending 135 km south-west towards Gibraltar. It includes the popular resorts of Fuengirola, Torremolinos and Benalmadena, plus of course, celeb-magnet of Marbella and the queiter Estepona. The western Costa del Sol international feel, with visitors and residents from all over the world. English language is widely spoken.
In addition to the Costa del Sol in Malaga province, geographically a short section of this coast is located in Cadiz province. This stretch includes the exclusive large residential developments of Sotogrande and Alcaidesa.
East Costa del Sol
The eastern Costa del Sol stretched 60 km eastwards as far as popular Nerja, where it meets the Costa Tropical of Granada province. The eastern Costa del Sol also has tourist resorts such Torre del Mar and Torrox Costa and many quieter villages many based on agriculture and is a gateway into the inland mountain villages of La Axarquia.
Nerja, which is home to one of the area's major attractions - the Nerja Caves. The inside of the caves are also the location of the annual international music and dance festival.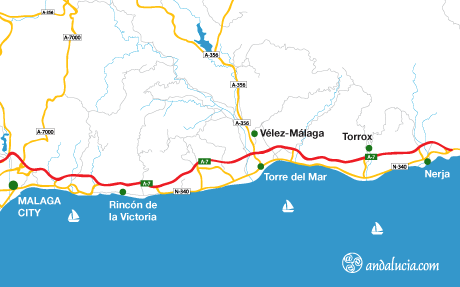 The Costa del Sol is the most developed and densely populated coastal strip in Andalucia, packed with resorts such as Fuengirola and Benalmádena, which have busy beaches and high-rise apartments. But each place still has its own unique appeal, such as the beautiful old quarter in Marbella and its swish restaurants, good for a bit of celebrity spotting if you´re lucky, an attractive long expanse of beach in Estepona and, if you´re after a lively nightlife, Torremolinos. If you want a rural quick-fix away from the Costa, head north of Marbella to Sierra Blanca, to the pretty villages of Ojén and Monda. Just north of Fuengirola are Mijas, Alhaurín el Grande and Coín.
The Costa del Sol also includes the less spoilt coastline east of Malaga, with the resorts of Rincón de la Victoria, Torre del Mar and Nerja, the latter offering a delightful promenade and a famous cave, the Cueva de Nerja. Just east of Nerja is a small but beautiful stretch of coastline, the most spectacular in Malaga province, which is protected. The Acantilados de Maro-Cerro Gordo Natural Area are magnificent cliffs with secluded coves and sandy beaches covering part of the shore between Malaga province and La Herradura in Granada province. The drive along the coastal road gets increasingly dramatic as you head east from Malaga city, because the mountains of the Axarquía to the north meet the Mediterranean at this point, plunging directly into the sea in steep, rocky cliffs.
Explore the Costa del Sol by Interest
The Costa del Sol stretches along 150 km of Málaga province and is one of Spain's most popular tourist destinations, with its wide sweeps of golden sand. The area's mild climate is the main attraction - visitors and residents alike can enjoy the beaches, as well as alfresco dining plus a wide variety of outdoor activities, all year round.... More>
Destinations