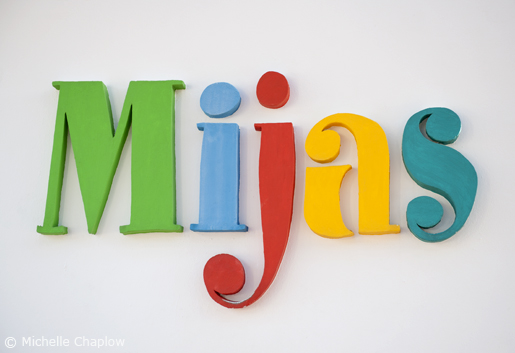 Mijas Costa is the area situated twenty minutes drive from Mijas Pueblo.
MIJAS COSTA
Mijas Costa is a 12 kilometre coastal stretch of modern (post 1960) tourist orientated development including the popular La Cala de Mijas (Mijas cove) and Sitio de Calahonda (a large residential estate) within the municipal district of Mijas. Mijas Costa is located between Fuengirola and Marbella, being at least 10km away from the village of Mijas and having to pass through Fuengirola to get between one and another leads to some confusion. Tourists who are not intersted in municipal affairs see Mijas Pueblo and the districts of Mijas Costa as different places.   

Mijas municipal district is comprised of three very different areas, Mijas Pueblo (the village), Mijas Costa (the coastal strip) and Las Lagunas (a modern residential and comercial area). There are also three small rural out-lying districts called Entrérros, Osunillas and Valtocado.
Mijas Pueblo (Andalucian White Village)
Mijas Costa (covering 12 kilometres of resorts along the coast including La Cala de Mijas)
Las Lagunas (Modern, commercial area with local small industry)
 Mijas Costa's various districts are joined together by the A-7 (old N-340)  coastal highway. Travelling from west to east and leaving Marbella municipal district just after Cabopino one enters Mijas Costa where coast road is less than 50m back from the seafront. The first macro-communidad (sub district) encountered is the large
Sitio de Calahonda
. This is followed by
Calypso
,
Riviera del Sol,
Miraflores
and
Torrenueva
. Rounding a headland the coast road then by-passes a popular 'seaside resort' area called
La Cala de Mijas
.     Following this the coast road huggs the rocky coastline and on the inland side of the road are the following
urbanizaciones
(housing estates) L
os Claveles, El Chaparral, Los Farolas, El Faro, Calaburras, La Costa, La Ponderosa.
Mijas Costa is the part of the municipality of Mijas which covers the 12 kilometre stretch of coastline joining (from East to West) El Chaparral, La Cala de Mijas, El Combo and Calahonda and takes in the two major urbanizations, Riviera del Sol and Sitio de Calahonda. Although just a twenty minute drive from little village of Mijas which is still steeped in the old Andalucian traditions and customs, the residential and beach life of Mijas Costa is very much 21st century. Holiday rentals available range from small studio apartments for holiday rentals to major villa developments with a sea and mountain view from the private pool. The beach life offers water sports ranging from jet skis, waterskiing, wakeboarding, windsurfing, parapenting and more.
The quaint town of Mijas.
The two large urbanizations, Sitio de Calahonda and Riviera del Sol are catchment areas forming large villages in their own right and have all the amenities such as commercial centres, supermarkets, golf course, sports centres, bars and restaurants for every day living. Many British and other foreign residents live here permanently and in summer, it is also very popular with holidaymakers in hotels and rented properties. Due to the great number of English speaking residents and visitors, it is easy to find English medical centres and most people there can speak English.
LA CALA DE MIJAS - THE CENTRE OF MIJAS COSTA
La Cala de Mijas is the central point of Mijas Costa and although it has grown and been built up, especially over the last decade or so, it still maintains something of its Andalucian seaside village atmosphere. From being a tiny fishing village originally, its population has increased to 10,000 - many of whom are British. There are schools, a health centre, public library, post office, shops and cultural centre, as well as many excellent bars and restaurants.
There is a very popular street market ('el barratillo') every Wednesday and Saturday from around 09:00 - 14:30. The market stalls offer everything from fresh fruit and vegetables to local crafts, clothes, ceramics and pottery, flowers and plants, and lots more.
La Cala celebrates its own festivals, such as the annual fair which begins on 25 July, when the village is all decked out for a week of festivities, and you can sample traditional wines and tapas, listen to local music, and enjoy the dancing.
Saturday nights in the hot summer months of July and August are magical in La Cala. The promenade becomes a venue for classical music and flamenco dancing. With the outline of the old 16th-century watchtower of Torre Vieja as a backdrop, and moon reflecting down on the expanse of sea, the village celebrates a season of Noches de Luna y Playa (Nights of Moon and Beach).

A coastal boardwalk as part of the Senda literal de Malaga (Malaga Coastal path) running 6km west to 400m short of Cabopino port (Marbella municipal boundary) was opened in 2015 and has proved to be very popular.  
RESTAURANTS IN la CALA
There is no shortage of restaurants in La Cala de Mijas.  There are many located on Boulevard de la Cala and others on the seafront around Calle Torrejon where the beach bars have their fans. Others prefer a more formal restaurant. Lookout for Restaurant El Torrejon, Restaurant El Deseo, Restaurant el Jinete, The Terrace and Centro de Mayores, economically priced, and a more Spanish speaking experience.
CAR HIRE
Hire a car
is best way to get around! Travel with ease and enjoy the beautiful views! Consult our general
Car Hire page
for the best deals within Andalucia.
Golf in Mijas
In Mijas, avid golfers will find an unparalleled paradise. Golf courses ranging from almost 40-year-old courses at the Los Lagos Course, to courses dating from the 2000s at the Cerrado de Aguila. For more information all of or Mijas' courses please visit our Mijas Golf Courses page.