Mijas Hostals & Hostels
Take me to Mijas Costa Hotels | Mijas Pueblo Hotels
Take me to Hostals & Hostels Home
Mijas can be split into two main areas; Mijas Costa and Mijas Pueblo. Mijas Costa is popular among tourists and has a large English population, it is here that you will find the town's beaches and more hotel and apartment rental opportunities. Mijas Pueblo is the original old town of Mijas and boasts authentic Andalucian town houses, colourfully decorated with flora.
There aren't a great deal of hostals and hostels in Mijas, however those that we have listed can be found in Mijas Pueblo, where Donkeys are still used as taxis and for transporting goods around the locality. The Pueblo is set in a beautiful rural surrounding and just 10 minutes drive form the beaches in Mijas Costa.
Hostals in Mijas
A HOSTAL (also known as a guest house) provides basic accommodation at a reasonable price and a smaller (than hotel) private room. Hostals are common in Spain and display a 'H' with a small 's' sign at the door with one or two stars. They are exempt from providing many of the facilities that a hotel must provide. Many in larger towns occupying a floor of a building or in villages and smaller towns are often located in traditional buildings. They are often family run. There must be en-suite toilets (but not bathrooms) in all rooms. A 2-star hostal must also have public toilets and must have an elevator.
A PENSION display a 'P' sign at the door with no star classification. These offer accommodation without need to offer any complimentary service such as refreshments. Pensiones have lesser requirements than a Hostal. There is no elevator requirement. The toilets and bathrooms may be outside the bedroom but there must be one bathroom for every five bedrooms. They must still provide a cleaning service and heating but not air conditioning.
Book hostals in Mijas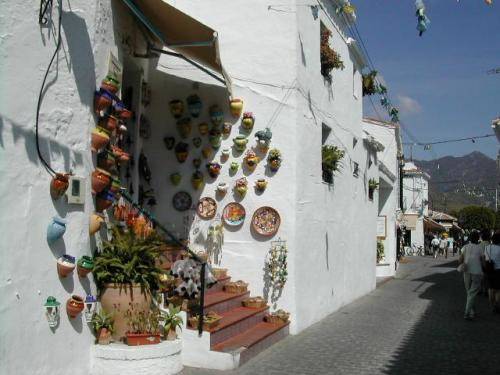 Hostal El Escudo de Mijas
The charming and picturesque El Escudo De Mijas is situated right in the centre of Mijas, close to Plaza de la Constitución. From its great mountain position you can enjoy beautiful views of the Costa del Sol.
Destinations