Villas in Mijas Costa
The towns and villages along the Costa del Sol are home to some of the most outstanding villas in the world, and Mijas Costa is no exception. Villas in Mijas Costa offer ultimate exclusivity including private swimming pools, private parking facilities and gardens. They range in size but usually sleep a minimum of three or four people.
A lot of the villas here are located on the beachfront in La Cala de Mijas, allowing you to wonder onto the beach from your villa with ultimate ease. Others are located in or just outside of Mijas Costa, a bit further inland, giving spectacular views over the Mediterranean or surrounding scenic countryside.
Featured below are some of the best villas in La Cala de Mijas and Mijas Costa. Don´t be afraid to also check out the wide variety of villas in Ojén, located nearby.
Villas
Luxury Villas
Beachfront Villas
Casa Querida
Featuring an outdoor swimming pool and terrace with barbecue facilities, Casa Querida is set just 700m from the nearest beach and can sleep up to 6 people. Parking facilities are available in addition to a tennis court.
Casa Caz
This three-bedroom holiday home is located just 800 metres from the beach. It features fenced grounds, garden and a swimming pool. It is well-decorated and can sleep up to 4 people.
Golf Villas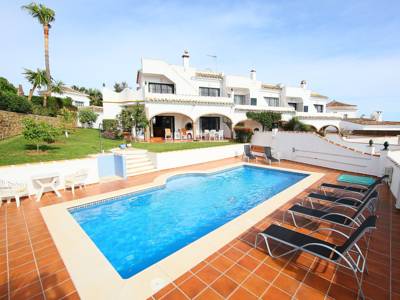 Villa Cielo
Villa Cielo is situated in Sitio de Calahonda, in a quiet, sunny position, close to local golf courses and the sea. The three-bedroom villa can accommodate up to 8 people. Features a private pool and garden with barbecue facilities.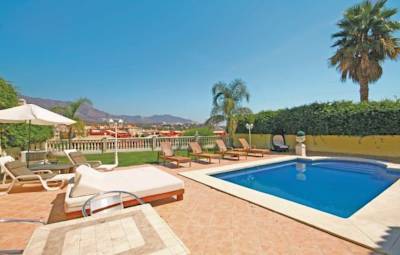 Holiday home Mijas Costa Villa 4
Offering an outdoor pool, Holiday home Mijas Costa Villa 4 is located in Mijas Costa, close to La Cala Golf Resort. The property sleeps 8 and is decorated luxuriously. Includes a mini gym and mountain views from all rooms.