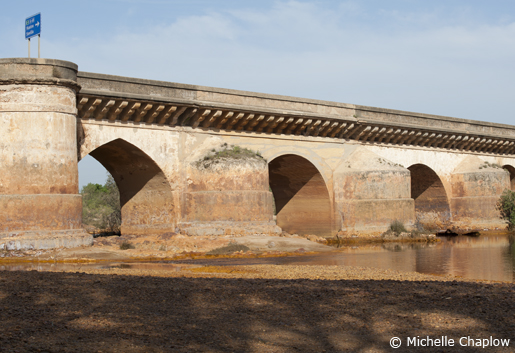 Roman bridge over the Rio Tinto in Huelva.
Huelva Province
by Jo Williams
Huelva is one of the least visited regions in Andalucía, but it has many unique places to discover and explore. Indeed, its escape - so far - from mass tourism is one of its attractions. It lies at the western edge of Andalucía, bordered by Portugal to the west, Seville province to the east and the region of Extremadura to the north. We have divided the province into seven areas below that are similar to the 'Comarcas' created in 2003.
Huelva city centre has many pretty plazas, absorbing historical monuments and a wealth of seafood bars and restaurants. More >
Atlantic coastline boasts long, unspoilt sandy beaches backed by sand dunes. Spanish families from cities such as Seville take their holidays in these seaside towns. More >
Natural Park Sierra de Aracena y Picos de Aroche is a beautiful, densely wooded area. It has small, pretty whitewashed villages tucked away in valleys and dramatic hilltop castles. More >
Named after the river which flows through the area-itself named for the reddish streaks that colour its water-Rio Tinto mining has become a landscape within a landscape. More >
Huelva and its environs is a Mecca for those interested in Christopher Columbus, with a number of significant tourist attractions relating to the famous explorer. More >
El Condado is a wine producing area in the south-east of the province of Huelva More >
El Andévalo is an inland 'comarca' (area) in the centre west of Huelva province sharing a border with Portugal. More >
It is probably best known for the Parque Nacional de Doñana, one of Europe's most important wetland areas, and home to an incredible multitude of wildlife in its sand dunes, marshes, pine woods, salt flats and freshwater lagoons. Here is one of Europe's last remaining habitats for the endangered lynx and the rare Spanish Imperial Eagle. The best time to visit is in winter and spring when the park is full of wildfowl. In winter thousands of geese and ducks arrive from the north, while in spring there are many flocks of breeding birds, including herons, spoonbills and storks.
A long Atlantic coastline with miles of unspoilt and often uncrowded beaches of golden sand is also a feature of this province. This forms part of the evocatively named Costa de la Luz (Coast of Light) that continues into Cadiz province. This coastline is rich in maritime history; most famously, it is where Christopher Columbus found his crew and ships and set sail for the New World.
In the north of the province is the gently rolling Parque Natural Sierra de Aracena y Picos de Aroche, a protected area with excellent walking opportunities and home to the famed cured ham from Jabugo.