Huelva Province
by Jo Williams
Huelva is one of the least-visited regions in Andalucía, but it has many unique places to discover and explore, from cork oak-covered hills, to deserted beaches. Indeed, this province's escape from mass tourism is one of its main attractions.
The province of Huelva lies at the western edge of Andalucía, bordered by Portugal to the west, Seville province to the east and the region of Extremadura to the north. We have divided the province into seven areas below that are similar to the 'Comarcas' created in 2003. 
Huelva is probably best known for the Parque Nacional de Doñana, one of Europe's most important wetland areas, and home to an incredible multitude of wildlife in its sand dunes, marshes, pine woods, salt flats and freshwater lagoons. Here is one of Europe's last remaining habitats for the endangered Iberian lynx and the rare Spanish Imperial Eagle. The best time to visit is in winter and spring, when the park is full of wildfowl. In winter thousands of geese and ducks arrive from the north, while in spring there are many flocks of breeding birds, including herons, spoonbills and storks.
The long Atlantic coastline with miles of unspoilt and often uncrowded beaches of golden sand is also a popular feature of this province. This forms part of the evocatively named Costa de la Luz (Coast of Light) that continues into Cadiz province. This coastline is rich in maritime history; most famously, it is where Christopher Columbus found his crew and ships and set sail for the New World.
In the north of the province is the gently rolling Parque Natural Sierra de Aracena y Picos de Aroche, a protected area with excellent walking opportunities and home to the famed cured ham from Jabugo.
Huelva city
Huelva may lack the region's star attractions of other provincial capitals, but once you get past the industrial sprawl on its outskirts, the centre is a pleasant place with many pretty plazas, absorbing historical monuments and, as you'd expect from a city with a bustling port, a wealth of seafood bars and restaurants.
Areas to Explore in Huelva Province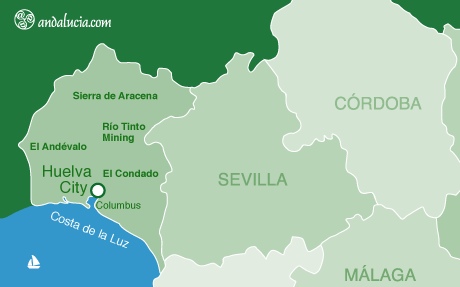 Natural Parks and Natural Monuments in Huelva Province
Destinations