Seville province
Relatively few foreign tourists venture beyond the delights of Seville city and the region's main transport arteries to Cordoba, Cadiz, Malaga and Huelva. But there are abundant places to explore - Baroque and Renaissance towns in the Campina, the stunning Sierra Norte countryside of rolling olive fields dotted with small, characterful towns, or sample some of the province's finest gastronomic treats such as cured sausages and aniseed liquor.
Much of the province's landscape is dominated by the mighty Río Guadalquivir, one of Spain's most important rivers. Seville itself is set in the heart of the fertile river valley, while many of the province's most significant settlements are scattered around the gently rolling Guadalquivir river plain (vega), known as La Campiña, planted with patchwork fields of wheat and olive groves. Historically, this area was largely in the hands of a few wealthy landowners and today the land is still divided up into huge farm estates, punctuated by large towns rather than small villages.
Seville city - Capital city of Andalucia
Most visitors are drawn to this province by its capital, Seville, Andalucia's largest city and its administrative centre. In Seville is Europe's largest historic quarter, so it's crammed with magnificent churches, convents, monuments and Moorish buildings. It's also renowned for its multitude of tapas bars and a buzzing nightlife; in summer, evening is the best time to stroll through the winding streets and pretty squares, to escape the fierce, unrelenting heat of the day.
One of Europe's biggest cathedrals is here, the vast Gothic Catedral whose famous minaret, the Giralda, is the best place for a bird's-eye view of the city. Nearby is another of the city's most impressive sights, the elaborately ornate Mudéjar palace of the Alcázar. Close to Seville is the ruined settlement of Italica, one of the Roman Empire's most important cities, which you can still today a huge amphitheatre and intricate mosaics.
areas to Explore in Sevilla Province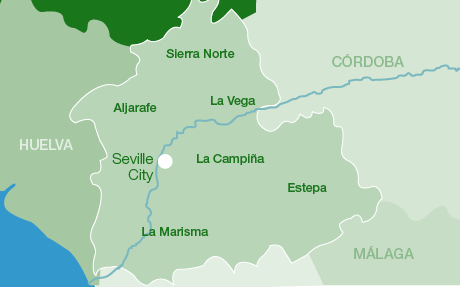 Natural Parks and Natural Monuments in Sevilla Province
Destinations