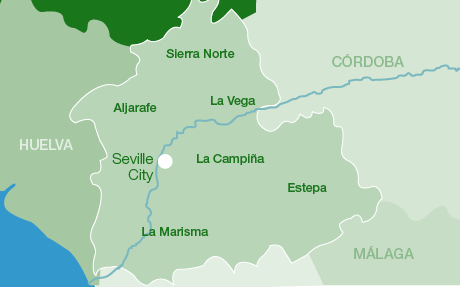 AREA METROPOLITANA (Sevilla)
The Metropolitan Area is the name of a 'comarca' (region or area) in the centre of the province of Seville. It is made up from 3 municipal districts and other small villages.
The municipal districts are Alcalá de Guadaira, Dos Hermanas and Los Palacios y Villafranca.
The Metropolitan Area is bounded on the west by Aljarafe, to the north by Sierra Norte and La Vega, to the east by La Campiña and to the south by La Marisma.
The largest town is Dos Hermanas, an industrial area and one of the biggest districts in the province of Seville.
Los Palacios y Villafranca was born as a result of the unification between Los Palacios and Villafranca de la Marisma in 1836. It has about 38, 100 inhabitants.
Situated to the south of Seville, on the N-IV old Cadiz road, Dos Hermanas is the second-biggest and most important town by population in Seville province, and the ninth-largest town in Andalucia… More →
Alcalá de Guadaíra used to be known as Alcalá de los Panaderos; the word panaderos meaning bread-makers, as this town supplied most of Seville's bread. It has about 75, 000 inhabitants.
Book Hotels in Metropolitan Area
Destinations