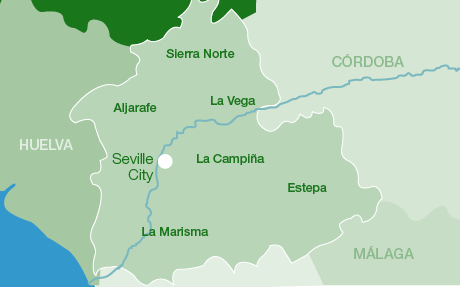 Aljarafe
Aljarafe is the name of a 'comarca' (region or area) in the north to north east of the province of Seville. It is made up from 30 municipal districts and even more small villages.
The municipal districts are Almensilla, Albaida del Aljarafe, Aznalcázar, Benacazón, Bollulos de la Mitación, Bormujos, Camas, Castilleja de la Cuesta, Castilleja del Campo, Castilleja de Guzmán, Carrión de los Céspedes, Coria del Río, Espartinas, Gelves, Gines, Huévar del Aljarafe, La Puebla del Riío, Mairena del Aljarafe, Olivares, Palomares del Río, Pilas, Salteras, San Juan del Aznalfarache, Sanlúcar la Mayor, Santiponce, Tomares, Umbrete, Valencina de la Concepción, Villamanrique de la Condesa and Villanueva del Ariscal.
Aljarafe is bounded on the west by Huelva, to the north by Sierra Norte, to the east by the Metropolitan Area and to the south by the and La Campiña.
The largest town is Coria del Río, famous for its Japanese heritage, saddlery, esparto or wicker, embroidery and regional garments.
Destinations
Book Hotels in Aljarafe
Destinations