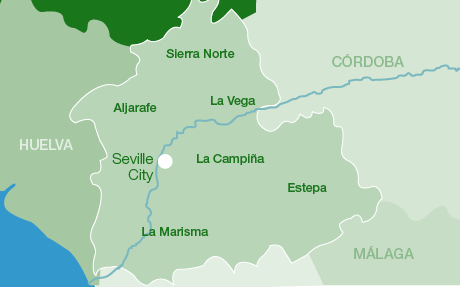 Sierra Norte
Sierra Norte is the name of a 'comarca' (region or area) in the north of the province of Seville. It is made up from 18 municipal districts and even more small villages.
The municipal districts are Alanís, Almadén de la Plata, Aznalcóllar, Castilblanco de los Arroyos, El Castillo de las Guardas, Cazalla de la Sierra, Constantina, El Garrobo,  El Madroño, El Pedroso, El Real de la Jara, El Ronquillo, Gerena, Guadalcanal, Guillena, La Puebla de los Infantes, Las Navas de la Concepción and San Nicolás del Puerto.
Sierra Norte is bounded on the west by the Sierra de Aracena, to the north by Badajoz (Extremadura), to the east by Cordoba and to the south by Aljarafe and La Vega.
The largest town is Guillena, has a popular golf course.
Book Hotels in Sierra Norte
Destinations