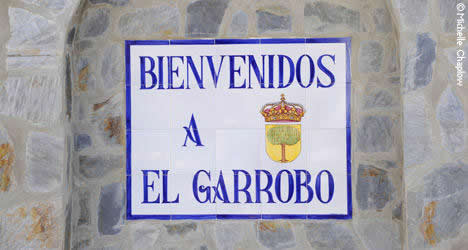 EL GARROBO
by Saskia Mier
El Garrobo is one of the smallest villages in the province of Seville, occupying a transition space between the regions of Aljarafe and the Sierra Norte. It has about 800 inhabitants.
HISTORY
The first signs of human settlement in the area are from the Chalcolithic period, although the starting point of the present population dates to the Visigoth era.
After the Muslim domination and the subsequent Christian conquest by Christian part, the area began to develop slowly. El Garrobo was set afire by the French in 1810, and was subsequently rebuilt.
El Garrobo belonged to El Castillo de las Guardas, until it became independent and gained village title. 
Hotels
Book hotels in El Garrobo
THINGS TO SEE
Iglesia de la Purísima Concepción
The church, of Mudejar origin, was initially built during the fifteenth century with some Romanesque features, such as the thickness of its walls. In the middle of the sixteenth century, the transverse arcs and the lateral cover were added and during the Baroque era the bell tower was built. Located in Calle Iglesia.
COUNTRYSIDE WALKS
Since the area is naturally hilly, it is ideal for hiking and has several routes to choose from, to suit all abilities. One must not forget the Minilla Reservoir, which is a very popular fishing spot. Here you will see Barbo Comiza (carp) and Grandes Basses (bass).
GASTRONOMY
Typical homemade dishes in El Garrobo include; cocidos (chickpea stews), gazpacho, gurumelos (wild mushrooms), migas (fried bread with orange), perdiz guisada (stewed partridge) and revuelto de esparragos (scrambled eggs with asparagus). El Garrobo produces wonderful honey, brown bread and cheese that are really worth trying, as well as the arroz con leche (rice pudding) made during lent.
FESTIVALS
Cabalgata Reyes Magos
Three Kings procession celebrated on the evening of the 5 January
Semana Cultural
Cultural week celebrated in May.
Romería a Fuente Abades
Celebrated in August
Feria en Honor de Nuestra Señora de la Estrella
Celebrated in August
LOCATION
El Garrobo is located 43km from Seville. To get there, take the SE-30 north leaving Seville, merging onto the A-66 Autovía de la Plata. Take exit 782 and second exit and the roundabout. Bear right onto the N-433 El Garrobo, Aracena, Portugal. Take the first left turn continuing on the N-433 until you reach El Garrobo.
Destinations