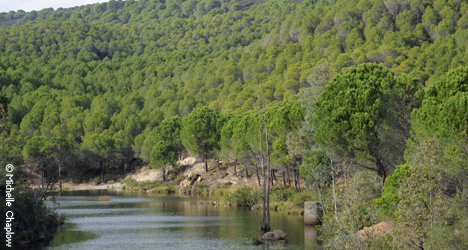 EL MADROÑO
by Saskia Mier
El Madroño sits directly on the Ruta de la Plata, in a peaceful area surrounded by parkland and trees. It has about 350 inhabitants.
HISTORY
El Madroño was founded in 1921 to bring together five villages in the area that lived from cultivating fruit trees. These include, La Villa de El Madroño, El Álamo, Juan Antón, Juan Gallego and Villagordo.
Its name 'madroño' is a the word given to a strawberry tree (Arbutus Unedo) and the origin is due to the vast extent of these strawberry trees that exist in the area.
The village initially belonged to the municipality of El Castillo de las Guardas until it was later given independence village title and a Town Hall.
In July 2004, a devastating forest fire affected the provinces of Huelva and Seville, devastating the more than 75% of the municipality of El Madroño, having started in Los Cantos, Rio Tinto (Huelva). The most affected species were scrubland, eucalyptus, pines, cork oaks and holm oaks. It is said that the ecosystem will take, according to approximate calculations, about 40 years for its total recovery.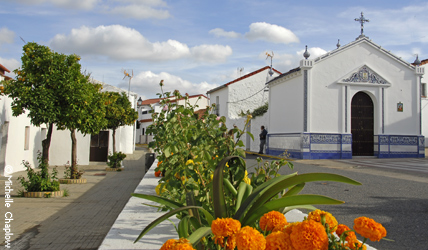 THINGS TO SEE
Iglesia de San Blas
The church was built in the first half of the sixteenth century and renovated in the seventeenth century. The lateral front was added in the eighteenth century. The parochial archives were burned during the war and documentation is only available as from 1936. Located in Plaza Constitución.
THINGS TO SEE OUTSIDE THE VILLAGE
Encina de los Perros
Encina de los Perros is an oak that was saved from the fire that occurred in July 2004 and was declared a natural monument in 2005. The resulting circumference is 4.30m and exceeds 8m at the base. It is said that couples from the village traditionally proposed to one another under the oaks branches. Located on a private estate called Finca Los Villares.
Yacimientos Cerro de El Riscal
These archaeological remains show rock carvings that appear to be the first known petroglyphs of similar characteristics in the province of Seville. In a first approximation they have been dated to the Middle Bronze Age. Located at a resting point called El Riscal.
Fuentes
There are several natural water sources in El Madroño showing the presence of human settlements or remains of past times. Fuente El Zapito is located on the road from El Madroño to Nerva and has water all year round. Manantial del Pilar del Coto is found before the cemetery and is mainly used by animals to drink. Fuente La Madroña is located 6km west of El Madroño. Fuente de los Burros is located north heading to Nerva and Fuente del Pilar Lavadero in located on the road to Berrocal road. Lastly, Fuente Nueva is located before the cemetery.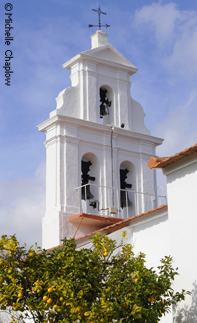 The Church of San Blas,
on Plaza de la Constitucion,
which dates from the 16th century.
HANDICRAFTS
Traditional handicrafts still seen in El Madroño include cork, palm and wood craftsmanship, making anything from utensils, baskets, chairs and saddles.
GASTRONOMY
Typical dishes to try in El Madroño are sopeao (similar to gazpacho), caldereta de cerdo o chivo (pork or goat stew), migas (fried bread with sardines, bacon and sausage), sopa de tomate (tomato soup) and not forgetting the homemade cured sausages.
FESTIVALS
Cabalgata Reyes Magos
Three Kings celebrated on the evening of 5 January.
San Blas
Celebrated on the 3 February.
Santa Cruz de Arriba
Celebrated in May.
La Cruz (San Antón)
Celebrated in May.
La Cruz (Juan Gallego)
Celebrated in May.
Santa Cruz de Abajo
Celebrated at the beginning of June.
Pirulito
Celebrated in the middle of June.
El Potaje (El Álamo)
A festival of chickpea stew celebrated in June.
La Cruz (Villagordo)
Celebrated on the third weekend of July.
Fiesta del Vino
Wine festival celebrated at the beginning of September.
La Velá de la Cruz de Arriba
Celebrated in August.
La Cruz (El Álamo)
Celebrated in August.
LOCATION
El Madroño is located 81km from Seville. To get there, take the SE-30 north leaving Seville, merging onto the A-66 Autovía de la Plata. Take exit 782 and second exit and the roundabout. Bear right onto the N-433 El Garrobo, Aracena, Portugal. Take the first left turn continuing on the N-433, passing El Garrobo and Arroyo de la Plata. Turn right to turn left onto the A-476 heading south west, continuing on passing El Castillo de las Guardas, merging onto the C-421.
Destinations