Highlights of Villages & Small Towns of Seville province
by Jo Williams
Northern mountain villages
In the Sierra Norte Natural Park, part of the immense Sierra Morena, are some of province's prettiest villages, often in stunning settings, overlooking the undulating slopes of the Sierra clothed in holm and cork oaks and Mediterranean shrubs. This is a favourite haunt of Seville city's inhabitants in searching for a bit of bucolic tranquility at weekends.
Cazalla de la Sierra is the most appealing of the dozen or so villages in the Sierra; a whitewashed jumble of houses clustered around a huge cavernous church. Outside the village in a superb hillside location is a restored monastery, La Cartuja de Cazalla, which has been converted into a unique hotel. Constantina is crowned by a ruined fortress, the pretty streets of its Moorish quarter twisting up the castle hill.
Near Guadalcanal are several of the region's highest summits including La Capitana, from where there are great views over the Sierra and neighbouring Extremadura; one of the Sierra's many beautiful walks is from Guadalcanal to La Capitana peak.
Other interesting villages are located on the Ruta de la Plata such as El Garrobo and El Madroño and El Castillo de las Guardas.
Architectural splendours of eastern towns
Most of the province's most architecturally outstanding towns and villages are located in the rolling farmland east of Seville. Carmona, off the A4 motorway to Cordoba, is the most notable, its centre characterised by imposing Mudéjar church towers, Renaissance townhouses and a fascinating Roman Necropolis on the edges of town. Écija lies on the Genil river, around 50km further east along the A4 from Carmona. It is renowned for its ornately tiled Baroque church towers, as well as the unenviable status of being the hottest place in Andalucia.
Along the A92 motorway east towards Granada are a clutch of memorable towns. Alcalá de Guadaira is overlooked by its massive walled Moorish fortification. Eighty kilometres further east is the town of Osuna, whose dukes left a legacy of grand mansions dating from the 16th to 18th centuries and an impressive fine art collection that can be seen in the Colegiata, one of a few hilltop monuments that preside over the town. Estepa is the next place along the A92, about 25km east of Osuna, with many Baroque mansions, testament to its great wealth in the 19th century.
Two places are worth a detour off the A92: Morón de la Frontera and Marchena. Once an important Moorish city state, the delightful village of Morón de la Frontera is today famous for its flamenco festival, the Gazpacho Andaluz. Marchena has some fine churches, one of which houses an important collection of art pieces by Francisco de Zubarán, among many other beautiful building in its historic centre.
Southern towns of the Guadalquivir river plain
Towns and villages south of Seville may lack the architectural splendour of Carmona and Osuna but several are worth a visit for their monuments or nearby wildlife sites. Utrera has both - a few Gothic churches and a nature reserve that is teeming with wildfowl in winter, as well as its famed flamenco extravaganza, the Potaje de Gitano. Further south is Las Cabezas de San Juan, with its colourful Baroque church and scene of a major political uprising in the early 19th century. Like Utrera, it has a nearby protected wetland site - Lebrija-Las Cabezas Natural Reserve - that is noted for its rare bird species, such as the red-knobbed coot and the white-headed duck. Just before Cadiz province is the walled town of Lebrija, which holds one of Andalucia's most popular flamenco festivals, the Caracol, every July. It also boasts an exceptional church, the Iglesia de Santa María de la Oliva, with elaborate Moorish-style features.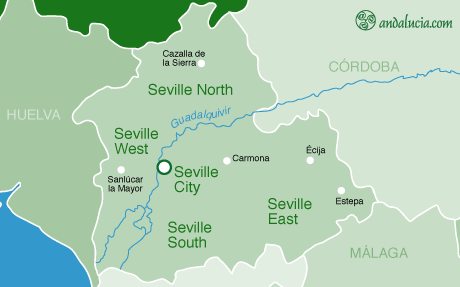 Villages in all eight provinces
Destinations