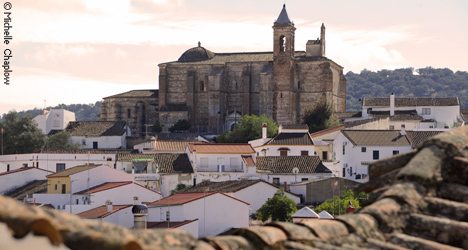 EL CASTILLO DE LAS GUARDAS
by Saskia Mier
El Castillo de las Guardas is situated in the north west of the Seville province and consists of 10 other hamlets within its municipal: La Alcornocosa, Archidona, Arroyo de la Plata, La Aulaga, Las Cañadillas, El Cañuelo, Las Cortecillas, El Peralejo, Peroamigo, y Valdeflores. It has about 1500 inhabitants.
HISTORY
Throughout history, the Rio Guadiamar has been a silent witness of settlements of different cultures. The existence of diorite and serpentine in the area were very important in this megalithic culture, and were greatly exploited.  
Historical remains from settlements in the area include dolmens and tombs that are still conserved in the surroundings. Among them, the so called "Sepultura del Moro" (Lapa del Moro), with a rectangular burial chamber, as well as those found in the Cerro de San Antonio Abad.
Minerals have been exploited since the Tartessian era, but it was the Phoenicians and Romans who inherited this mining tradition, making it the essential centre of regional economy, building transport and trade routes towards Huelva and Minas de Rio Tinto.
During the Arab dominion, El Castillo de las Guardas underwent a major change. Under the name of Al-Muniat, it developed a fruitful city thanks to the restoration of the ancient military fortress of the Romans. They also built a cemetery, mosque, baths and other Islamic facilities. The castle tower was built as a lookout point and it was surrounded by guards.
After the re-conquest of these territories by Fernando III, El Castillo de las Guardas became a dependent municipality of the City of Seville.
In the seventeenth century, during the reign of Carlos II, it was granted a royal order for the legal status of independent village.
Hotels
Book hotels in El Castillo de las Guardas
THINGS TO SEE
Iglesia Parroquial de San Juan Bautista
The church was built on the remains of an ancient mosque and Arab cemetery. The initial construction is dated between the thirteenth and fourteenth centuries, however certain features were later built on to it. Located in Plaza Plaza Divina Pastora.
Plaza de Toros
The stone bullring was built towards the nineteenth century. For your visit you should contact the Town Hall. Located in Plaza del Llano.
Castillo 'El Torreón'
The remains of the castle can be observed at the highest part of plain. It was built during the thirteenth century, in times of re-conquest, overlooking the banks of the Rio Guadiamar and a large part of the municipality. From the viewpoint you will appreciate its great strategic location. Located on Calle Rafael Mozo.
Fuente Abrevadero
A fountain used previously as a meeting point among villagers, built in Baroque stone. Located on Calle Román García.
THINGS TO SEE OUTSIDE THE VILLAGE

 
La Reserva Natural THEME PARK
La Reserva is one of the largest and most spectacular animal parks in Europe. Visitors will find more than 1000 animals of over 100 different species living in conditions similar to those of their natural habitat.  At La Reserva you will find several fun shows and exhibitions that will delight the whole family, however it does not only have animals to enjoy. There are many fun activities for all ages, such as go-karting, paintballing, water sports, boat tours, swimming pools, swimming with dolphins and children's parks. The park has several eating areas, as well as an outdoor space for those who have brought their own packed lunch. More>

COUNTRYSIDE WALKS
El Castillo de las Guardas has a variety of walking routes to enjoy including; Ruta "Ribera del Guadiamar", Ruta "De los Callejones", Camino de Arroyo de la Plata, Camino de las Cañadillas, Camino de Las Cortecillas a Peroamigo y Peralejo and Camino al Embalse de la Minilla.
GASTRONOMY
Gastronomy of El Castillo de las Guardas is based mainly on game meats and the Iberian pig.
Dishes include stews such as gandinga, made with grains, bread and spices, and calderetas de jabali o venado (boar or venison stew). It is also worth trying the local goat's cheeses and bread made in traditional wood ovens. Sweet treats include piñonate, rosas, caracoles (pastries) and torta de chicharrones (cake made with pork and lard). Try some of these in the market square.
HANDICRAFTS
Local handicrafts include products made of cork and palm which is not the most common but a very traditional craft still seen in the village. Palm is still used today to restore the seats of chairs. Embroidered shawls are also traditional made in the area as well as handmade bracelets, earrings or combs made from bull horn.
FESTIVALS
Cabalgata de Reyes Magos
Three Kings procession celebrated on the evening of 5 January
Romería en Honor a la Inmaculada Concepción (Arroyo de la Plata)
Celebrated in May
Romería en Honor a la Virgen del Rocío (El Cañuelo)
Celebrated in May
Día de Corpus
Celebrated end of May
Cruces de May
Celebrated end of May, beginning of June
Romería de San Juan Bautista
Pilgrimage celebrated 24 June
Fiestas en Honor a Nuestra Señora de Fátima (Valdeflores)
Celebrated in July
Fiestas en Honor de la Santa Cruz (La Aulaga)
Celebrated in July
Fiesta en Honor de San Antonio de Padua (La Alcornocosa)
Celebrated in July
Fiesta Local (El Peralejo)
Celebrated in July
Feria
Celebrated in August
LOCATION
El Castillo de las Guardas is located 60km from Seville. To get there, take the SE-30 north leaving Seville, merging onto the A-66 Autovía de la Plata. Take exit 782 and second exit and the roundabout. Bear right onto the N-433 El Garrobo, Aracena, Portugal. Take the first left turn continuing on the N-433, passing El Garrobo and Arroyo de la Plata. Turn right to turn left onto the A-476 heading south west, continuing on and turning left onto the SE-530. Continue on until you reach El Castillo de las Guardas.
Destinations