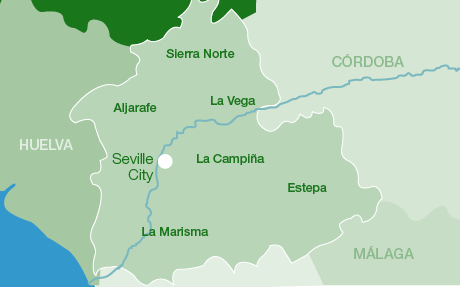 La Campiña
La Campiña is the name of a 'comarca' (region or area) in the centre of the province of Seville. It is made up from 23 municipal districts and other small villages.
The municipal districts are Arahal, Cañada Rosal, Carmona, Coripe, Écija, El Coronil, El Rubio, El Viso del Alcor, Fuentes de Andalucía, Gilena, Herrera, La Campana, La Luisiana, La Puebla de Cazalla, Mairena del Alcor, Marchena, Marinaleda, Montellano, Morón de la Frontera, Osuna, Paradas, Utrera, La Lantejuela.
La Campiña is bounded on the west by the Metropolitan Area and La Marisma, to the north by La Vega, to the east by Estepa Area and to the south by Cadiz.
The largest town is Utrera, a thriving agricultural area and a traditional gypsy flamenco tradition.
La Campiña and the villages of Montellano, El Coronil and Utrera can be easily visited by those travelling to Seville from Ronda and the Costa del Sol on the picturesque A-375.
Book Hotels in La Campiña
Destinations