Sierra de Aracena
Sierra de Aracena is the large comarca (area) in the north of Huelva Province. It covers part of the Sierra Morena mountain range that spans accross most of northern Andalucia.
Within this Sierra de Aracena comarca there is a protected natural park called the Parque Natural Sierra de Aracena y Picos de Aroche which is a beautiful, densely wooded area. It has small, pretty whitewashed villages tucked away in valleys and dramatic hilltop castles. Its rich and diverse flora and fauna include mixed woodland of cork oaks, sweet chestnuts, olives and fruit orchards, home to wild boar, mongoose, badgers and weasels. It's also a good place for birdwatching - you can even see eagles, black vultures and black storks.
Accommodation
There is a good choice of places to stay. There are hotels or high-standard hostales in the main towns and villages in the Sierra, as well as cheaper pensiones. Casas rurals (country cottages), in… More →
Villages of the Sierra de Aracena
NATURAL Parks
The Sierra de Aracena and Picos de Aroche natural park encompasses 184,000 hectares, an impressive 90% of it covered by woodland of mainly Mediterranean oak. The landscape is full of contrasts,… More →
Hotels in Serrania de Aracena villages
Book Hotels in Serrania de Aracena
Under holm oaks that grow throughout the Sierra de Aracana are black Iberian pigs that feed on the oaks' acorns. The pigs are used for a delicious famed cured ham, jamón ibérico. The proliferation of pigs in the Sierra can be seen on menus, which are dominated by pork.

There are loads of great walks, some now well signposted, along the many tracks that crisscross the Sierra de Aracena.
Between the Sierra de Aracena and the coast is a comarca called Cuenca Minero (literally mining basin or Rio Tinto Mining ) which contains the amazing open-cast Río Tinto mines and an excellent mining park including museum, workers cottages and train ride.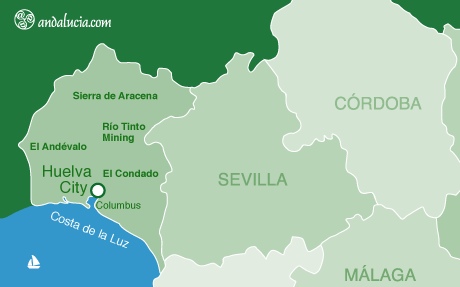 Destinations