El Andevalo
El Andévalo is the name of a 'comarca' (region or area)  in the west of the province of Huelva. It is made up from 14 municipal districts and even more small villages.
The municipal districts are  Alosno, Cabezas Rubias, Calañas, El Almendro, El Cerro de Andévalo, El Granado, Paymogo, Puebla de Guzmán, San Bartolomé de la Torre, Sanlúcar de Guadiana, Santa Bárbara de Casa, Valverde del Camino, Villanueva de las Cruces y Villanueva de los Castillejos. 

El Andévalo is bounded on the west by Portugal, to the north by Sierra de Aracena, to the east by the mining comarca of Rio Tinto and to the South by Huelva City and the Costa de la Luz.   
The largest town is Valverde del Camino, which is known for hand  made boots and foot-ware and also furniture.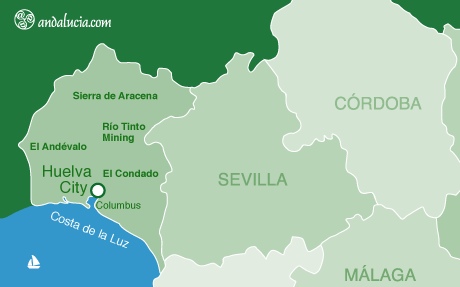 Book Hotels in El Andévalo
Destinations