el cerro de andévalo
by Saskia Mier
El Cerro de Andévalo is located west of Minas de Río Tinto in the Andevalo region of Huelva province. The word cerro, means hill, and the village was named for its situation south of the hill. It has approximately 2500 inhabitants.
HISTORY
In 1251,three years after he reconquered Seville from the Moors, Fernando III bestowed the city with large tracts of land and villages in Huelva province, including Ayamonte on the coast bordering Portugal, and hill towns in the Sierra de Aracena including "Zufre, Aracena, Almonaster, Cortegana, Aroche, Mora, Serpa, Alfayat de la Peña, Andévalo, Sotiel, Tejada". Two years later, his son Alfonso X confirmed the act of his father, formally granting Seville these territories.
In 1290, the hamlet of Castillejos was founded. Three years later, King Sancho IV ordered the Seville council to construct castles, which later led to founding of Encinasola, Cumbres de Enmedio and Torres.
In the early 15th century, after a period of being abandoned, El Cerro de Andevalo was once again populated and even had a prison, but later that century, during the wars between Castille and Portugal, El Cerro de Andévalo was destroyed, along with other villages.
During the 16th century, inhabitants of El Cerro de Andévalo began to expand - they built a reservoir, kept bees and paid their taxes. They also built a chapel, constituted religious brotherhoods and set up a hospital.
THINGS TO SEE
Iglesia de Santa María de Gracia
The church was built in the 16th century by Hernán Ruiz, the architect of La Giralda in Seville, and features elements of different styles. It has twice been extended to accommodate the growing number of worshippers. Located in Plaza de España.
Ermita de la Trinidad
Chapel built in the 16th century, containing two well-preserved vaults. No longer a religious building, today it has become the centre of cultural activities, with a programme of exhibitions, conferences and concerts. Located next to Iglesia de Santa María de Gracia.
Plaza del Cristo
The square dates back to the early 18th century and is surrounded by Andévalo-style houses. Its name comes from a chapel called Ermita del Cristo de la Humildad, which once stood until its destruction before the civil war.
Ermita de la Virgen de los Dolores
The original chapel probably dated from the early 16th century, under the patronage of San Sebastian.The current structure was built in 1938 by Antonio Castillo Lastrucci, replacing the previous chapel that was destroyed during the Civil War. Located off Calle Arrabal.
El Regente
Once an oil mill, this building was named by its owner after Felipe V Regent of Seville. Dating back to the 18th century, when a chapel in honour of the Virgin de Andévalo stood beside it, El Regente is currently undergoing restoration. Located south of El Cerro de Andévalo, outside the town in an isolated, rural position.
Ermita de San Benito
Records show the chapel was built in 1435 in the village of Montes de San Benito, and became the moderator of the Campo de Andévalo area in disputes over possession of the land. Located 20km from El Cerro de Andévalo, off the H-9008.
Museo Etnológico y Etnográfico
The museum opened in 2003 with an exhibition of ancient tiles from El Cerro de Andévalo dating from the 16th to 20th centuries. The building was originally constructed as a communal wheat barn in the 16th century. During the 17th century it was converted into a prison and later returned to its original function in the 18th century. In the 19th and 20th centuries it was used as a salt house, grammar school, call centre and another prison, until the 1970s. Remodelling to create the museum began in the 1990s. Today, the museum displays artefacts from olden times in the town, as well as historic tiles.Located on Calle Padre Dominguez. Free Entrance. Open all year, Friday and Saturday, from 19:00-21:00, and Sunday, from 12:00-14:00. Tel: 959 567 056.
Mina La Joya
The mine began its operation under The Bede Metal Company from 1882 to 1888. Copper was transported to Huelva via a specially-built section of railway from the mine to El Tamujoso, 11 km away, where it connected with the Zafra-Huelva line. A dam was built for the treatment of the copper but was reported twice for exploiting manganese. It became active again in 1925, and remained in use until 1976.
SURROUNDING COUNTRYSIDE AND WALKS
The area of El Cerro de Andévalo has meadows of oaks and scrubland of cistus, rosemary and rock rose, which adorn the surrounding landscape where partridges, rabbits and, above all, wild boar roam. Sheep huts are the most important in the area - the local sheep's cheese is famous. and the landscape's red stain due to centuries of mineral exploitation. Walking routes include Camino a Villar Izquierdo, Camino de San Benito, Camino del Lomero, Paseo de las Mingorreras, Puentes y Ferrocarril de la Mina de la Joya and Camino de los Molinos.
GASTRONOMY 
El Cerro de Andévalo offers a variety of dishes such as caldereta (meat stew) and caldo sanbenitero (soup), potaje de gurumelos (wild cep mushroom stew), migas (traditional winter dish of breadcrumbs, potatoes and garlic) and ensalada de oregano (oregano salad made in summer with fresh tomatoes), and local sheep's cheese such as quesa (queso fresco). As for sweet treats, the most popular are roscos de puño, borrachos, rosas, tortas and piñonates. 
HANDICRAFTS
Handicrafts in El Cerro de Andévalo include leather goods such as saddles, embroidery and woodwork.
FESTIVALS
Romeria de San Benito Abad
The oldest pilgrimage in the province of Huelva, this takes around four hours travelling with horses and mules to the Ermita de San Benito. All the townsfolk dress up, with some men in waistcoats and coloured sashes, and women wearing period costume - elaborate outfits with colourful headdresses and clothes. The women in period dress are the leading performers of a dance called La Folia, as well as fandangos. Celebrated the first Sunday of May.
Holy Week
A variety of processions take place throughout the week, involving the Virgen de las Dolores. In particular, La Quema de el Judas where on Holy Saturday the residents make life size figures of Judas using straw and old clothes, which are then hung in the street and burnt at midnight. 
Feria
The local summer festival celebrated on the first weekend of August. 
Verbena de San Bartolomé
Celebrated on the third weekend of August.
LOCATION
El Cerro de Andévalo is situated 70 km from Huelva. To get there, take the Autopista del Quinto Centenario (A49), turn off at to Trigueros. After passing through Calañas, take the HV-1421 to El Cerro de Andévalo.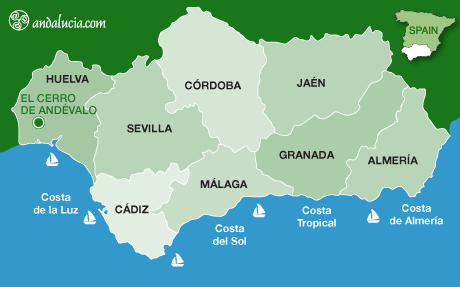 Destinations