Cabezas Rubias
by Saskia Mier
The name of this town refers to being surrounded by golden-coloured mountains which resemble blonde heads.
HISTORY
The earliest inhabitants of Cabezas Rubias date back to prehistoric times; the origin of the town is in the Chalcolithic period (or Copper age, an early part of the Bronze age), between the second and third centuries B.C. The most famous archaeological site is Los Pedernales, where you can admire the authentic megalithic culture from this period.
Some remains of the Roman road that once crossed Cabezas Rubias and linked the mouth of the Guadiana river to Mérida (in the region to the north of Andalucia called Extremadura) have been preserved.
Cabezas Rubias has been marked by centuries of clashes with Portugal, a struggle that ended with the devastation of its entire population during the Reconquista (Reconquest). The struggle caused the death of most inhabitants and the destruction of their village which was subsequently rebuilt by the Duchess of Medina Sidonia.
THINGS TO SEE
Ermita de San Sebastian
The most prominent monument in the centre of Cabezas Rubias is the Ermita de San Sebastian (chapel).

Molino de la Divisa
A mill located in "Puerto Colorado", about 2 km from Cabezas Rubias, the nearest mountain to the village once used as a look out. The mill belonged (along with two other mills) to the network of mills out of hundreds that stretched from Niebla to Portugal. It has been converted into a natural viewing point over the entire Sierra del Andévalo to enjoy a fascinating panoramic view of Cabezas Rubias.
GASTRONOMY
The most popular dishes, due to the hunting in the area, are game stews, particularly wild boar and venison. Wild mushrooms are also popular when in season.
HANDICRAFTS
If visitors are interested in purchasing some local crafts, the baskets made from palm leaves are the most traditional.
FESTIVALS
San Sebastian is celebrated 20 January in honour of the patron saint with a procession.
Nuestra Señora de Consolación held on 15 August begins with the crowning of the queen and ladies and ends with a fireworks display. Over the weekend the traditional ribbon horse-race is celebrated by all those from Cabezas Rubias and on Monday, the traditional ribbon donkey-race.
Romeria de San Sebastian held on the second weekend of May with a pilgrimage.
LOCATION
Cabezas Rubias is located 66 kms from Huelva city; to get there, take the Huelva-Ayamonte road to the N-431; then onto the A-495 and after passing through the towns of San Bartolome de la Torre, Alonso and Tharsis; you then arrive in Cabezas Rubias.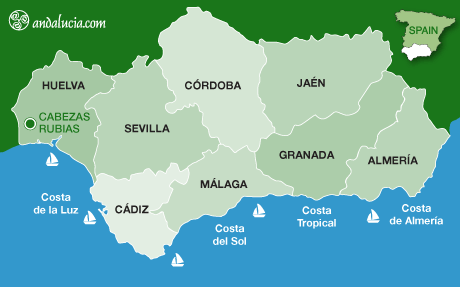 Destinations