Puebla de Guzmán
Puebla de Guzmán is located in the western part of Huelva. With Thars is in the east, Villanueva de los Castillejos in the south and the border to Portugal several kilometres to the west, Puebla de Guzmán has 3127 inhabitants.
HISTORY
The first example of population is a selection of graves that have been found in the area with ceramic pieces and other objects dating to a pre-Roman era. Evidence showing Roman mining activity is also visible when copper, iron and silver were once extracted from the mines of Cabezas del Pasto, Herrerías, Cabezo de Gibraltar and others.
The Moors also left signs of population shown on various pieces of engraved stone.
During the Middle Ages, two different populations existed, Alquería de la Vaca and Alquería de Juan Pérez. In 1445, the Condede Niebla set up businesses to increase population.
In 1481, Puebla de Guzmán was formed and obtained village title in 1796 from King Carlos IV.
During the sixteenth century, Portuguese invasions began to separate Portugal from the Spanish Kingdom. It was later invaded by the French in the early nineteenth century and at the end of that century, mining increased once more in the area.
THINGS TO SEE
Las Calles
The streets of Puebla de Guzmán are uniquely cobbled by hand, combining the modern and old parts of the village. Original stone walls enclosing gardens and patios are also visible.
Molinos
In 1880, Puebla de Guzmán had 18 working windmills. In this century, restoration to two of the windmills took place, La Horca y Pozo de Bebé. It is said that on a good windy day, the windmills are able to grind up to a ton of wheat. Molino La Horca is located on the road to Cabeza Rubias and Pozo de Bebé is located down a track at the end of Calle Ventorro, near to two more un restored windmills.
Ermita de la Virgen de la Peña
The chapel was built in the sixteenth century, although during the seventeenth century the major parts of its construction took place. The wooden sculpture of Virgen de la Peñawas created by Juan de Valencia in 1711, later reformed in 1960 and again in 1992 by Antonio Díaz Fernández.Located 4kms from the village in Cerro de Aguila.
La Iglesia de la Santa Cruz
Built during the sixteenth century, the church is placed within the Castillo de Alfayat. Originally the church had a magnificent interior, with an organ and many pieces of art and sculptures of great value. In 1936, during the Civil War, the church was burnt down. Located at the south entrance to Puebla de Guzmán.
El Convento
El Convento de María Auxiliadora, also known as Convento Beaterio de la Orden Tercera de San Francisco de Nuestra Señora de los Milagros, was built in the eighteenth century and of Baroque style, it is one of the most significant religious houses in Huelva. In 1954, the church was abandoned due to its derelict state and in 1987 its renovation began. 
Iglesia de Santa Barbára
Built during mid-last century, the church is located in Plaza Santa Barbára.
La Peña
Set at the foot of the high rocks of Cerro del Aguila is the Ermita de la Virgen de la Peña. It is also a great viewpoint overlooking the Andévalo, Sierra de Aracena, coast of Huelva and even Portugal.A great place for stargazing. 
Castillo de Alfayat
Remains show the pre-existence of Moors and Romans found around the castle. It was built between 1262 and 1298 and was once known as Alquería de Juan Pérez.
La Presa
La Presa (reservoir) collects water from Rio Malagón, Rio Cobica and Rio Viguera. Its clay base stops the water being taken up by the ground. A piece of land has been left in the centre of the reservoir as animal nature reserve. To visit La Presa, one should obtain authorization from the Confederación Hidrográfica del Guadiana.
Las Herrerías
Las Herrerías was a mining village created at the beginning of the twentieth century for workers and their families. It was demolished to make way for a new neighbourhood in the 1950s. 
Las Cortas
In the mining area of Las Herrerías are Cortas. These are large open pits that have filled with water, one called La Corta de Guadiana and the other, La Corta de Santa Barbára. La Corta de Guadiana is the eldest of the two dating from the nineteenth century, whereas La Corta de Guadiana is much more recent. 
El Ferrocarril del Guadiana
From 1887 to 1890, The Bede Metal Company constructed a railway from Cabezas del Pasto mine to the port of La Laja. Initially, the locomotive was very small and could hardly pull five wooden wagons of 3 tons of ore. In 1895, a richer mineral source was found and in 1905, the railway was extended. Between 1923 and 1924, new steam locomotives were introduced to the railway and the system was modernized. Later on in 1946, the railway was made electric and in 1952, diesel locomotives were introduced. 
COUNTRYSIDE WALKS
Puebla de Guzmán has five walking routes well worth doing. Camino a la Peña starts in Pozo Bebé and finishes in La Peña, passing by a beautiful rest stop as well as a fresh spring that smells of iron and was known to heal anaemia. Ruta Los Arroíllos starts in Puebla de Guzmán and finishes in the rest stop of Los Arroíllos, a short route but well worth it. Puebla-Las Herrerías is a flat route connecting Puebla de Guzmán with Las Herrerías and is best to go between October and May where the landscape is green and at its best. Del Molino a la Fuente begins in Puebla de Guzmán and finishes in Fuente de los Enfermos, passing by the old mills of the area.
GASTRONOMY
The most popular gastronomy of Puebla de Guzmán consists of the slaughter of the Iberican pig. Almost all the parts of the pig are used and dishes such as caldereta are stews made from pork, beef and sometimes lamb. Sweet treats include all the traditional pastries dipped in honey, ortortas made with lemon and even cabello de angel (made from pumpkin), used to fill pastries.
HANDICRAFT
Embroidery is the most traditional handicfraft in Puebla de Guzmán. Specifically, encaje de malla is still seen here where it is rare in other parts of Spain. Other types of embroidery also popular in Puebla deGuzmán are "bocadillo", also known as "cortadillo" and encaje de bolillos that is used to make the traje de Gabacha, an elegant outfit made originally for special events.
FESTIVALS
Romeria Puebla de Guzmán traditionally has one of the oldest pilgrimages in Andalucia. Celebrated in the month of April in honor of the Virgen de la Peña.
Feria
Celebrated the second weekend of August with a variety of events as well as attractions and music.
Santa Bárbara
Celebrated the 4 December. Las Herrerías in honor on the patroness of miners. Apart from a procession, a food festival is also held.
LOCATION
Puebla de Guzmán is situated 64km from Huelva. To get there, take the A-497 west of Huelva. Take exit 5 onto the A-5077 and then A-492, joining onto the Autopista del V Centenario  A-49 towards Tariquejo. Passing Tariquejo and Villanueva de los Castillejos, continue on the A-499 to Puebla deGuzmán.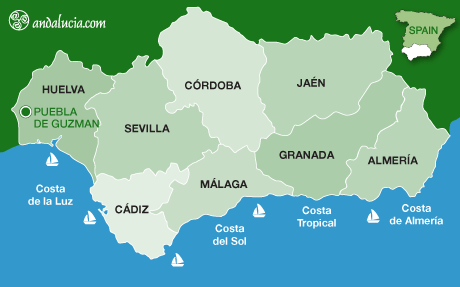 Destinations