San Bartolomé de la Torre
by Saskia Mier
San Bartolomé de la Torre is surrounded by eucalyptus and located in a soft plain, north of the city of Huelva. It has defied the passage of time between meadows and forests belonging to the judicial district of Huelva and borders the municipalities of Villanueva de los Castillejos and Gibraleón. It has 3446 inhabitants.
HISTORY
The first historical traces of San Bartolomé de la Torre reflect the existence of human settlements since very early times, basing their survival on agriculture, crafts and trade. Megalithic remains have been found, such as a passage with a false dome in Cabezo Las Palmas, now non-existent after repeated depredation. This dolmen was excavated in the late 50s, by Pérez Núñez Y Geog and Vera Leissner. The excavation uncovered a major collection composing of axes, wood carving tools, knives, stone tools and amulets.
Roman presence has been found with the existence of artefacts and archaeological pieces from this period and the existence of tombstones with epitaphs in Finca La Nava, along with a bronze statue from the Adriano period.
The torre (tower) of San Bartolomé de la Torre indicates the effective occupation between the middle and late thirteenth century whose function was clearly military and was once the border to neighbouring Portugal as well as the Taifa (an independent Muslim-ruled principality) of the Kingdom of Seville. San Bartolomé de la Torre was reconquered in 1257 by Alfonso X el Sabio, incorporating it into the Christian Kingdoms.
San Bartolomé de la Torre was affected by Wars of Secession and the various demographic crises, resulting from various epidemics and plagues that devastated the region in the late seventeenth and eighteenth century.
The Napoleonic invasion seriously affected the demographic and economic future of San Bartolomé de la Torre. As a result of this war, archives were destroyed resulting in the uncertainty of the village's formation.
THINGS TO SEE
Torre Medieval
The medieval tower is located 700 meters above the town centre. It was constructed between the mid and late thirteenth century and was used to control the points of communication with the mountain mining area and the coast, to its border with Portugal. Located on Avenida de la Torre.
Iglesia del Apóstol San Bartolomé
The Baroque style church was constructed in the thirteenth century. Located in Plaza de España.
Dolmen Corredor
The Dolmen Corredor is where Megalithic remains were found. Located in Cabezo de La Palmas.
Museo del Aceite
The new town hall of San Bartolomé de la Torre was built on part of the land where the original oil mill was located. The mill of the Cooperative Olivarera is now situated on the outskirts of San Bartolomé de la Torre. However, the previous olive oil mill has been preserved and converted into the museum. Located on Calle de la Puebla.
Opening Times: Monday-Sunday and Holidays, 9:00-13:00hrs
Prices: Free Entrance
Tel: 959 52 56 56
Danza de las Espadas
This statue stands in tribute to the dancers of the danza de espadas. This ancient tradition is still maintained today in the town, seen in several local festivals throughout the year. Located on Avenida Andalucia.
Parajes La Sierra Cabello y La Tosquilla
These two natural areas are great tranquil getaways. Paraje de la Sierra is surrounded by cork oaks, holm oaks, pines and eucalyptus trees. Paraje de la Tosquilla is set amongst pine and holm oaks. Located south of San Bartolomé de la Torre.
Yacimientos
Archaeological sites such as the Roman Necropolis located south-east of San Bartolomé de la Torre and a Megalithic tomb are both worth a visit.
GASTRONOMY
Popular dishes found in San Bartolomé de la Torre are game stews and especially sweets and breads.
FESTIVALS
Festividad de San Sebastian
Celebrated on the 20 January with a procession followed by the traditional danza de lasespadas.
Cruz de Mayo
Celebrated in May with cultural events, music and dance.
Romeria de la Amistad
Celebrated the last weekend of June. The pilgrimage is unique that it is not celebrated in honour of a Saint or Virgin. Traditionally it was to bring the men closer together. It takes place in Paraje de Alto de la Lobera.
Feria de San Bartolomé
Celebrated the 24th of August with a procession followed by the danza de lasespadas. Nine days leading up to the 24th, music, dancing and fireworks fill the streets. There are also a variety of events that take place as from the 24th for five days. 
V Feria de lasCulturas
A cultural fair that takes place in May.
LOCATION
San Bartolomé de la Torre i slocated 30kms from Huelva. To get there, leave Huelva on the H-30 north towards Gibraleón. Passing Gibraleón, turn off onto the A-495 and continue until you reach San Bartolomé de la Torre.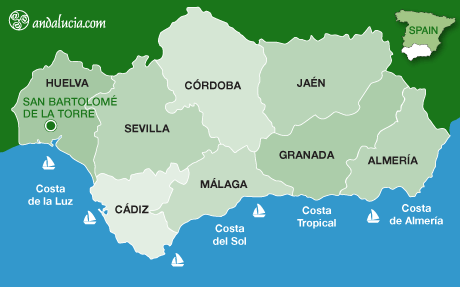 Destinations