On the Trail of Columbus in Huelva
Huelva and its environs is a Mecca for those interested in Christopher Columbus, with a number of significant tourist attractions relating to the famous explorer. Cristóbal Colón (as he is known in Spain), is thought by most to have been born in Genoa, Italy around 1451. After years of seeking funding support for an expedition which was to find a sea route to Asia, Columbus finally came to an agreement with King Ferdinand and Queen Isabella of Spain. They would (along with a number of Italian financiers) back his expedition in return for dominion over the any new lands. Columbus would be awarded titles and, of course, a percentage of any fortune that was made. The rest, of course, is world history.
La Rábida, Palos de la Frontera and Moguer are three of the key sites in the Columbus story, which lie along the eastern bank of the Rio Tinto estuary and can be visited in a 40 km return trip from Huelva. At least 10 buses a day run from Huelva bus station to La Rabida and Palos de la Frontera, many of them continuing to Moguer. There are several accommodation options for staying here overnight.
La Rábida & Monastery
Seven kilometres south of Huelva city where the Tinto and Odiel rivers meet is the 15th-century Franciscan Monasterio de Santa María de la Rábida.  La Rábida monistary is where Columbus stayed between 1491-92 waiting for financial backing from the Catholic Monarchs, Ferdinand and Isabella, for his voyage to the New World. The monastery was constructed in 1412. Nearby, on the Río Tinto estuary, the Muelle de las Carabelas (Harbour of the Caravels) is a quay with life-size replicas of Columbus's three ships. The museum next to the boats has displays about Spain in the 15th century.   More >

Palos de la Frontera
Palos de la Frontera is the small sleepy village on the River Tinto just 10km upstream form Huelva City and the sea. It is of great interest to tourists because this is where in 1492 Columbus Set sail westwards and discovered America.The visitor can walk around this village in the quiet and discover the history for himself. More>
The Village of Moguer
Moguer played an important part in the first of Columbus' voyages. Located a few miles inland on the Río Tinto, it was an important centre of sea travel during 15th and 16th centuries. The importance of Moguer can be judged by the number of historical buildings that still exist. Among them is the Convento de Santa Clara which not only stands out as an outstanding work of architecture but was also the place where Columbus pledged his allegiance to the Spanish Crown before he left on his 1492 voyage. The building was severely damaged in the Lisbon earthquake of 1755 but later rebuilt. It was made a national monument in 1931. More>
Sanctuario de Nuestra SeÑora de la Cinta
This whitewashed 15th-century chapel in Huelva city is famous for its associations with Christopher Columbus. Positioned on El Conquero hill, about 3 km north of the city centre, it commands a wonderful view of the Odiel wetlands. Like most sanctuaries and hermitages, it was originally built outside the town centre and used to be surrounded by fields and open countryside, which are now colonized by the apartment blocks of the Conquero residential district. It has been declared a Site of Cultural Interest. More >.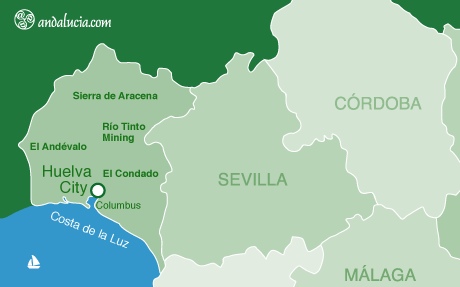 Destinations