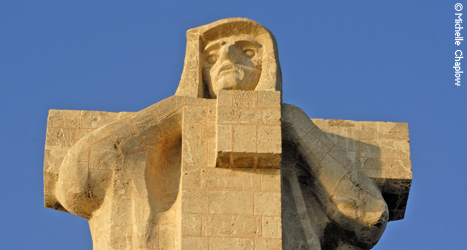 Monumento a la Fe Descubridora
This massive statue, located at Punta Sebo where the rivers Odiel and Tinto meet, is often mistaken for the figure of Columbus.
The statue actually represents a Franciscan friar from the Monasterio La Rábida, who took Christopher Columbus in while he was planning his first voyage and waiting for confirmation of funding from the Spanish monarchs.
The cubist statue, at 37m tall and made from quarried stone from Niebla, looks out to the west and is dedicated to the sailors who with faith and perseverance aided Columbus in the discovery of America. The pedestal is a tribute to the cultures discovered in America with bas-reliefs depicting Mayan, Aztec, Inca and Christian elements. It has two memorial plaques on its pedestal; one of them reminds visitors of the donation of the statue by the United States in gratitude for the discovery, and La Real Sociedad Colombina Onubense is responsible for the second plaque.
It was built in 1929 and the director of the project was Gertrude Vanderbilt Whitney, an American sculptor, disciple of Rodin in Paris and she also studied in New York. It is there that the Whitney Museum was founded in 1931 and the sculptor was named "adopted daughter" of the city of Huelva.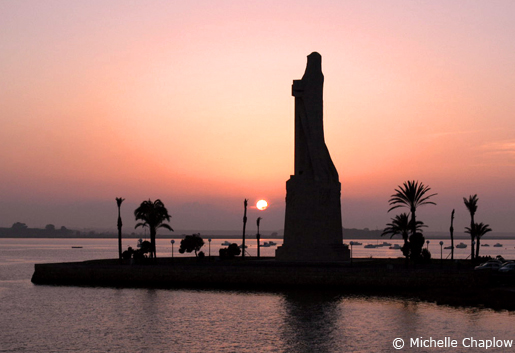 Gertrude Whitney's homage to the Discoverer Faith and Christopher Columbus measures 37m.
Location
Avenida Francisco Montenegro.
Destinations