PALOS DE LA FRONTERA
by Saskia Mier
Palos de la Frontera is predominantly an agricultural village due to its vast trade of local strawberries and raspberries. It is also well known for being where Christopher Columbus set sail eventually reaching America in 1492. It has about 8500 inhabitants.
HISTORY
There are traces of settlements from the Upper Paleolithic era, as well as evidence relating to the Tartésico, Roman, Visigoth and Moorish era. Palos de la Frontera was founded in 1322, when Alfonso XI of Castille donated it to Alonso Carro and his wife, Berenguela Gómez. Palos de la Frontera at that time consisted of coastal fishing, taking advantage of its inner harbour, sheltered from wind and pirate attacks.
Álvar Pérez de Guzmán, true founder of Palos de la Frontera, was fourteen when Juan I of Castille granted him Palos de la Frontera and Villalba del Alcor as compensation. Alvar Pérez got the monarch to exempt tax on the first fifty families that came to Palos de la Frontera. When Don Alvar died, his widow, Doña Elvira de Ayala, daughter of Chancellor of Castille, continued the work until her death in 1434.
Martín Alonso Pinzón
In the middle of the fifteenth century, Palos de la Frontera established thriving trade relations with Mediterranean Europe and North Atlantic, based on fishing and other products obtained in the area.
Palos de la Frontera is known worldwide as the birthplace of the discovery of America. On 3 August 1492, Christopher Columbus, the Pinzón brothers, the sailors of Palos de la Frontera set sail from the port with the three ships, Santa Maria, La Pinta and La Niña.
The name comes from the Roman word "Palus", meaning "gap", and was called Palos only until the mid-sixteenth century, when it was given the wrong name, Palos de Moguer. In May 1642, the Town Hall gave it its name, Palos de la Frontera.
At the end of the eighteenth century, Catalan investors including Don Antonio Bueno, were devoted to the wine exploitation of the area and fishing decreased, making way from the new agricultural industry of strawberries which are mostly exported.
THINGS TO SEE
La Fontanilla
Originally a public water source which supplied water to the ships Santa Maria, Pinta and Niña, when they departed from the port of Palos de la Frontera with Christopher Columbus and the Pinzón brothers. The fountain was built in the thirteenth century on a Roman curbstone, but has since been restored. Located on Calle Cristóbal Colón.
Iglesia de San Jorge
The Gothic-Mudejar Catholic church was built in the middle of the fifteenth century and declared a National Monument in 1931. In May 1492, the council and neighbours met in the square to hand over two ships to Christopher Columbus. The church was restored after the Lisbon earthquake in 1755. Located on Calle Fray Juan Pérez.
Castillo
Remains of the castle are found by the Iglesia de San Jorge, which was built under the Moorish reign. Located on Calle Fray Juan Pérez.
Casa Museo Martin Alonso Pinzón
A civil building that belonged to the Pinzón family who were actively involved in the discovery of America. The house was built in the middle of the fifteenth century in Renaissance style by Martin Pinzón. His three children developed an essential role in the organization and implementation of the discovery of America. Located on Calle Colón.
Casa de la Misericordia
Formerly known as Hospital de la Sangre, it was the place where sailors came when they had an illness. The school workshop 'Vicente Yanez Pinzon I' restored it and today is the magistrate of Palos de la Frontera. Located on Calle Rábida.
Art Galleries
In the Casa Museo de Martón Alonso Pinzón there is a permanent exhibition of articles, documents and bibliography relating to the part played by the town in the discovery of America. 
Calle Colón 24
Tel: 959 35 01 00
Opening Times:
Monday- Friday, 10.00-14.00hrs
THINGS TO SEE OUTSIDE THE VILLAGE
Monasterio de La Rábida
The monastery was constructed in 1412 on the site of a Moorish stronghold and also has a fourteenth century Gothic-Mudejar church, where Captain Martín Alonso Pinzón, from Palos de la Frontera, who sailed with Columbus in one of his ships, is buried. Between the walls of this primitive monastery, is the image of Santa María de la Rábida Nuestra Señora de los Milagros, the image that Christopher Columbus prayed to before starting his personal crusade. Located on Diseminado De la Rábida, west of La Rábida.  Visits are by guided tours only by Franciscan monks in Spanish, although there are audio guides available in other languages, including English, and some of the information plaques are in English as well as Spanish.  More>
Muelle de las Carabelas
The construction of the building was carried out by architect Pluvio Fernandez Heredia and was inaugurated on 15 March 15 1994. It is a waterfront exhibition with life-size replicas of Columbus's three ships: the Niña, the Pinta and the Santa María, built for the 500th anniversary celebrations. The museum next to the boats has details of Columbus's life, regular video screenings and a café. Close to the Muelle de las Carabelas is the Monumento Plus Ultra, which commemorates the first transatlantic flight between Spain and America. More>
Parque Botánico José Celestino Mutis
A botanical garden with a growing collection of flora collected from five continents. It was opened in 1993 and the expedition was to result in an important herbarium of more than 20,000 species and a collection of 6,000 slides were sent to the Royal Botanical Garden of Madrid. The garden is constantly changing and is the most visited tourist landmark in the province of Huelva. Located in Urbanizacion Rabida Urbanizacion.
Opening Times:
Tuesday-Sunday, 10:00-19:00hrs
Price: Free Entrance
Tel: 959 53 05 35
GASTRONOMY
A traditional breakfast is pan tostado con ajo, aceite y verdigones (toasted bread with oil, garlic and muscles). Due to its proximity to the coast, dishes include seafood, pescadito frito (fried fish), gamba de Huelva (Huelva prawns) and chocos con habas (cuttlefish with broad beans). Sweets include hornazos (honey pastries) and fresones de la tierra (local starwberries). All dishes can be accompanied by an excellent variety of dry and sweet wines from El Condado.
FESTIVALS
Feria Medieval
Celebrated in March, recreating the fifteenth century.
Romeria Nuestra Señora Milagros de la Rábida
The pilgrimage takes the Virgen from Iglesia de San Jorge Mártir in Palos de la Frontera to Monasterio de La Rábida on the last weekend of August.
LOCATION
Palos de la Frontera is located 19kms from Huelva. To get there, take the H-30 southwards and onto the N-442. At the roundabout, take 3rd Exit onto the A-5025 and continue passing La Rábida and onto Palos de la Frontera.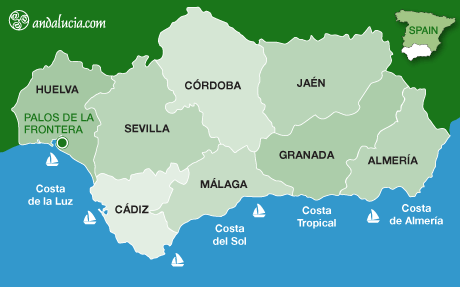 Destinations