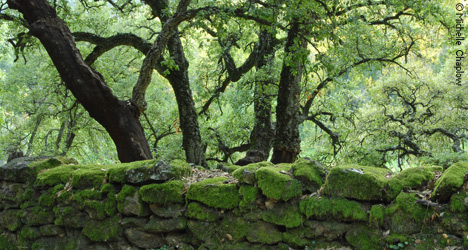 SANTA ANA LA REAL
by Saskia Mier
Santa Ana la Real, situated within the Sierra de Aracena, is in one of the wettest areas in the whole of Spain, with an average annual rainfall of 1100 mm.The village is situated in a small valley between Cerro Castillejo and las Cumbres de la Serrachuela mountains. It has around 500 inhabitants.
HISTORY
The first signs of human activity are shown from rock carvings found in the estate of Los Azulejos, in the area of a dolmen necropolis, dating back to approx. 3000 B.C.
Later, the population increased in mid-16th century when settlers arrived to exploit the natural resources.
Santa Ana la Real belonged to Almonaster la Real until 1751, when it was given village status by King Fernando VI. During the 17th century, hunger and poor living conditions led to the emigration of many residents.
In the 18th century, population increased due a lowered death rate, and the introduction of new foods, which resulted in intense activity of fruit and vegetable production. Towards the end of this century and the early 19th century, confrontation with Almonaster and Jabugo occurred over landowners and local farmers' rights to acorns. This lasted more than 30 years until French invasion in 1810.
In the 19th century, cholera epidemics of 1834 and 1854 decimated the population, as well as the exodus of workers at the end of the century to the Andévalo and Sierra areas for the mining.
Santa Ana la Real recovered once more in the 20th century due to agriculture and livestock; however, today it thrives mainly on tourism. With cobbled streets and red-roofed white houses, each with a slightly different chimney; the picturesque village has a traditional square, Plaza de España, with church, town hall and local shops such as chemist, grocers and tobacco kiosk/newsagent. It offers hiking trails and beautiful scenery with many viewing points.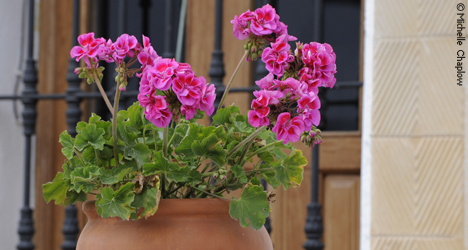 THINGS TO SEE
Iglesia de Nuestra Señora Santa Ana
The Neoclassical-style church dates from the end of 18th century. Built of brick with the footprint of a Latin cross, it has an octagonal tile-covered tower with two bells known locally as 'la gorda' (the fat lady) and 'la chica' (the girl). It has Cultural Heritage status.
The church has a clock built by clockmaker, José Martínez, dating from 1865. The baptismal fountain was donated in 1601 by Domingo Lopez and the chancel and transept were decorated with mural paintings by the Sevillian painter Rafael Rodriguez Blas in 1949.A wood carving of the patron saint Santa Ana was sculptured by Sebastián Santos, from Higuera de la Sierra in 1942, which is a copy of the previous image destroyed during the Civil War. Located on Calle Huelva.
Ermita de San Bartolomé
The chapel was built in 1926 by Bartolomé Gómez Plana, a doctor from Cadiz who had come to Santa Ana la Real to recover from illness. As a gesture of his gratitude to the villagers for their hospitality towards him, he paid for the chapel. It was extended in the summer of 1998. Located on Calle San Bartolomé.
La Cruz de Vigía
This hexagonal pillar crowned by an iron cross was built early in the 19th century - according to some, it was a lookout in the war against the French, as it offers an excellent vantage point for the landscape of mountains,valleys and meadows that stretch along the southern area of Santa Ana la Real. Located outside the village on the top of Los Veneros. 
La Fuente de los Tres Caños
The fountain sits in the shade of a beautiful walnut tree on the edge of the village. It has three pipes coming out of a hexagonal glazed ceramic body, with the waters collected in a circular stone trough. Originally a watering hole for cattle, it flowed into the communal wash room, used well into the 20th century. Currently, the limestone water is mainly used for irrigation of surrounding orchards. Located on Calle Constitucion.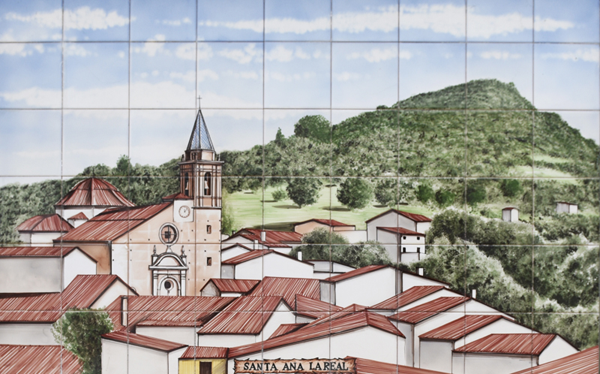 COUNTRYSIDE WALKS
Subida al Cerro Castillejo
Cerro Castillejo is an emblematic mountain behind Santa Ana with an altitude of 720m above sea level. The mountain is covered with a thick layer of scrub, making it difficult to climb, however the best way is to take a rocky path from the cemetery which offersa quick route to the top. Views are spectacular: the village, its surrounding countryside, and on clear days, all the way to the sea.
Los Chorros de Joyarancon
One of the most iconic natural landscapes of the Sierra de Aracena, Los Chorros waterfalls are popular with visitors, especially in rainy season, with cascades of water falling over 15m. They are reached via a path which starts from the bridge of Los Casares (just over 1 km from the village towards Alájar).
Risco Levante
An impressive natural stone tower more than 15m high, with the Rivera de Santa Ana running nearby. Located in the eastern part of the village, near the boundary with Alajar, this site is reached via Camino de la Presa (a path which runs between poplars, oaks and chestnuts).
GASTRONOMY
Santa Ana la Real still retains a number of dishes which, although produced in other towns of the region, are produced here with different ingredients giving a distinctive flavour.Popular dishes include estofadillo (pork and potato stew), potaje de habichuelas con bacalao (broadbean and cod stew), gazpacho de papas cocidas (winter gazpacho with potatoes), picadillo de asadura (diced offal and tomato stew) and migas (fried bread and potatoes with pork). Like in many other villages of the Sierra, sweet treats include pestiños (honeypastries), buñuelos (donuts) and torrijas (honey eggy-bread).
HANDICRAFTS
Local crafts of Santa Ana la Real include utensils and products made of wood as well as textiles, specifically embroidery and patchwork.
FESTIVALS
Dia de los Quintos
Celebrated on 1 January. Singing groups perform around the village and then a dance is held in the evening.
Bollos de Pascua
Celebrated on Easter Sunday, children make figures, representing Judas, out of old clothes and straw. They are later taken to the square and beaten. Then the families go the countryside for a picnic.
Romeria de Fátima
A pilgrimage to la Morona celebrated at the beginning of May.
Corpus Christi
Festival in June, when the patron saint and Baby Jesus are taken through the streets which are lined with poplar and chestnut branches, stopping at altars made by the villagers.
Candelas de San Juan y San Pedro
Celebrated the eve of 23 June, the young villagers jump over bonfires made from camomile branches. All men named Juan are congratulated at their houses. The festival is repeated on 28 June, except with rosemary branches.
Fiestas de Santa Ana
Celebrated 24, 25 and 26 July with many cultural events.
Migas de Tosantos
Celebrated on the bank holiday weekend of Todos los Santos (All Saints' Day, 1 November), this traditional gastronomic festival sees villagers gather in the main square and cook the classical local dish of migas (breadcrumbs with garlic and sardines), accompanied by mosto (grape juice) over fires.
LOCATION
Santa Ana is located 90km north-east of Huelva. To get there, take the A92 towards Huelva, exit at Valverde del Camino, and take the N435.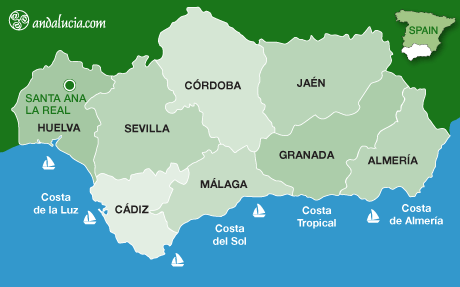 Destinations