Minas de Cala
By Chris Chaplow
This almost-abandoned mining village in the north of the province of Huelva is located a few km from the border with region of Extremadura and province of Badajoz. It is dependent on the nearby village of Cala, a few km away.
Minas de Cala is one of several poblados mineros (mining towns) around Cala; others are La Sultana and Minas de Teuler.
Minas de Cala is a ghost town and only of interest to those curious about abandoned towns, and industrial architecture. There are no hotels, shops or cafés.   
THINGS TO SEE
Opencast Mining
You can view the mine works from outside the perimeter fence. There is security and some limited extraction is taking place. Mineral hunters talk on forums of parking several km before the mines and walking overland to access spoil heap outside the perimeter fence. The size of the main elliptical excavation in Las Minas de Cala is 1100m diameter maximum and 400m minimum, with a depth of 150m.
You can also see old terraced mining cottages and managers houses - spot the house that is still occupied.

Old Railway station
The mine railway opened in 1906 and transported minerals until 1955, and passengers up to 1933 from Minas de Cala south to San Juan de Aznalfarache (Sevilla). Part of the route is a now Via Verde for walkers and cyclists. There is a public campaign to reform more of the old line. 
History
The first modern or industrial mining of copper was started in 1853 by D. Antonio Domenech. Followed by a succession of companies, he made half-hearted attempts at mining copper. 
In 1888 the mines were bought by Portuguese company Sociedad Portuguesa das Minas de Cala, which was the first company that operated the mine significantly and continuously. The company built a foundry but had little success due to the low grade of copper ore. Then after discovering that the copper ore was only on the surface; underneath was iron ore,specifically magnetite, the company went bankrupt in 1893.
Work was resumed in 1897 by The Cala Mines Ltd Syndicate, based in Manchester.  In 1900 the English company sold the mines for 3,600,000 pesetas (€ 22,000) to a Bilbao businessmen who formed the Minas de Cala SA with capital of 15 million pesetas (€ 90,000). This company was the one who built the rail road to San Juan de Aznalfarache (Sevilla). The construction of the railway was crucial to the mine and by 1910 236.186 tons of iron ore were transported.
There was a decline in the production post-Civil War and the railway closed in 1955. The Sociedad Anónima (SA) Minas de Cala, as it was also known, was sold to Don Ignacio Iturain Arocena with its 11 mining concessions for  400.000 pesetas (€2,404). In 1965 it was sold again to Compañía Minera del Andévalo S.A., which continued to work the mine until 1981. In 1982 the Spanish UCD (Unión de Centro Democrático, Union of the Democratic Centre, an electoral coalition, and later political party, in Spain, existing from 1977 to 1983 initially led by Adolfo Suárez) government announced that they would not rescue the mine so 20 miners locked themselves in a gallery called Socavón Nuevo. On 30 April 1982, Felipe Gonzalez, then PSOE secretary general and presidential hopeful, visited the miners and declared: "Mientras yo sea Presidente del Gobierno no se cerrará la mina" (If I am [elected] President of the Government, this mine will not be closed.)  Six months later the PSOE had a historic victory in the general elections and the mines were saved under the control of the company Prereducidos Integrados del Suroeste, or PRESUR for short, which was part of the state-owned SEPI (Sociedad Estatal de Participaciones Industriales).The mines finally closed in 2010. 
Location
Minas de Cala is 90km north of Seville and 130 km from Huelva. From either city join the N-630 Ruta de la Plata heading north and leave at Santa Olalla de la Cala and take the A-434 to Cala. Turn here onto a country road, then the HU-3126 to the mining village of Minas de Cala.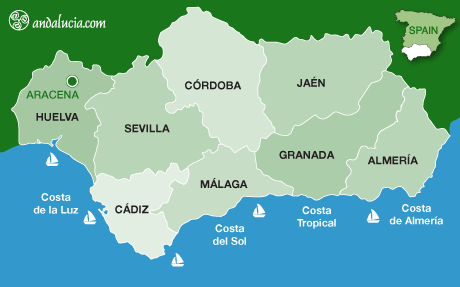 Destinations