ARACENA
Aracena, the largest town in the Parque Natural Sierra de Aracena y Picos de Aroche, is dominated by a hilltop ruined castle and church. Its population has grown rapidly in recent years, but it has managed to retain a dignified elegance about its streets.
The Portuguese drove the Moors out of Aracena in 1251 before handing over the town to the Castilians in 1267. The Knights Templar controlled the town until 1312 when the Order was dissolved. In the early 20th century Aracena was favoured as a holiday resort by employees of the Río Tinto mining company, who built the houses in Aracenilla, an area of town past the piscina (swimming pool) on the Alájar road.
What to see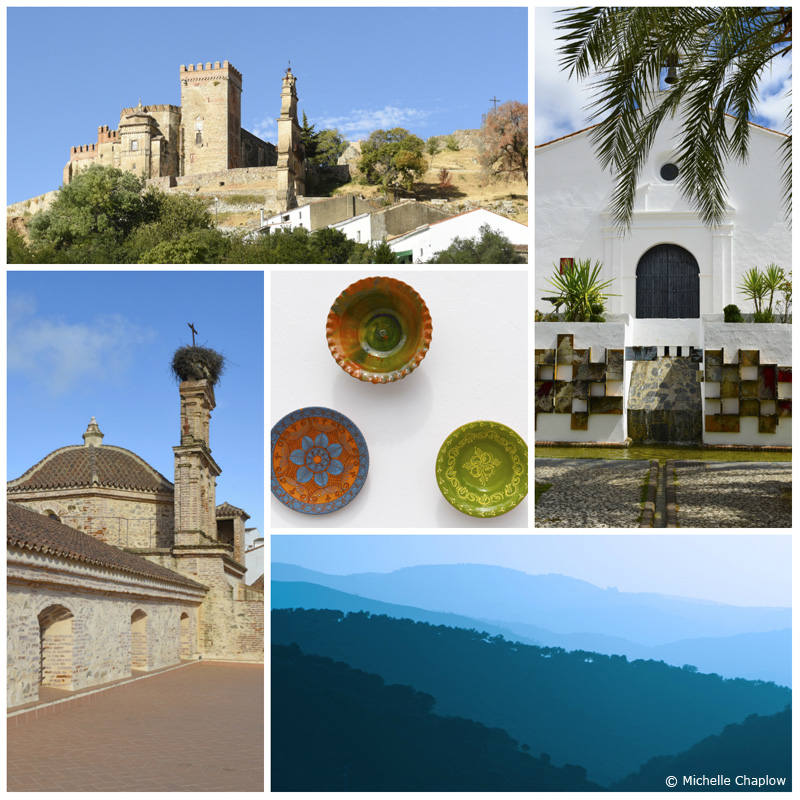 There are plenty of things to see in Aracena. Read about them on the things to see in Aracena page.  Aracena is famous for its spectacular limestone caves, the Gruta de las Maravillas (the Cave of Marvels), one of the best caves in Spain. These are underneath the castle hill more>
HOTELS
There are a number of small hotels in Aracena town ranging from four star converted convent to simple two star traditional town hotels. More on our Aracena hotels page.
What To Take home
If you love gastronomy the Sierra de Aracena is the place for you, with it´s prized hams, wild mushrooms, organic products such as nuts, honey, citrus fruits and home made cakes from the famous confectioner Rufino.
 
Honey, Chestnut Marmalade and confectionary from
Rufino, all hand crafed in the Sierra de Aracena.
 
Organic products on sale in the Sierra de Aracena
Walks From Aracena
There are some stunning walks form Aracena into the nearby sierra. See our walks from Aracena page.
Driving Itineraries from Aracena
Three superb, half day or full day itineraries from Aracena.  The Southern Villages Itinerary, the Northern Castles Itinerary, Northern and Eastern Sierra. 
Bus Timetables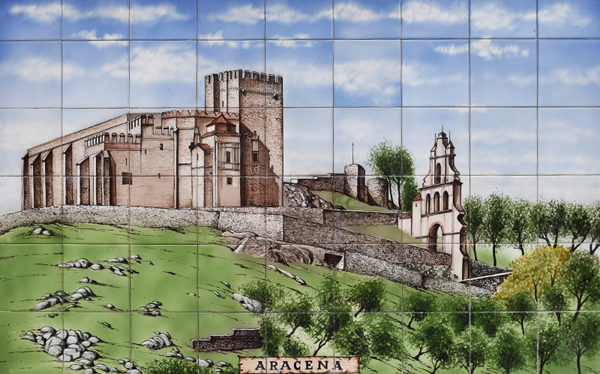 Festivals
February in Aracena there is the fiesta of Candelaria y Saint Blas.
Carnival week is the burning of the onion; yes you read it right (Entierro de la Cebolla) in the nature reserve of los Marimateos.
Holly week  (Semana Santa)  and then two weeks after Easter they celebrate little Holy week  (Semana Santa Chica), when the children create their very own processions.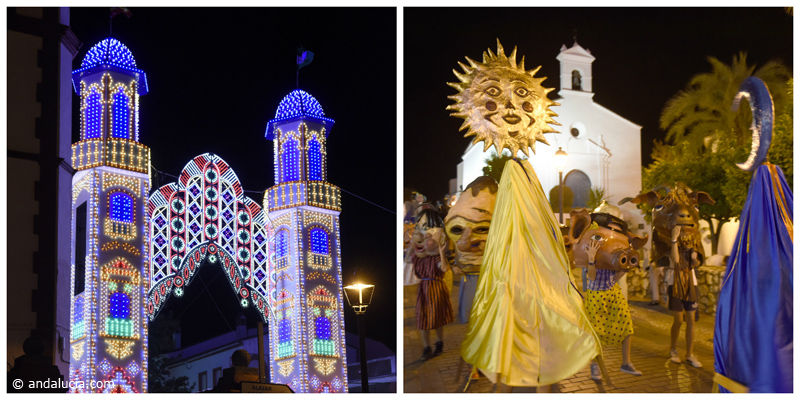 The summer fair is the third week in August, with horse processions and the evening parade of the big headed giants. (Gigantes y Cabezudos)
And the third weekend in May is the date for the agricultural fair.
Ancient Music Festival. Held at the end of August in the town's picturesque 14th century castle.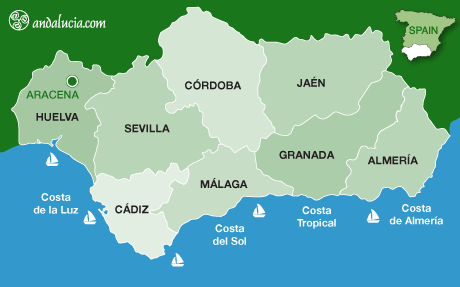 Destinations