LAS CHINAS
by Saskia Mier
Las Chinas is located in the Sierra de Aracena and Picos de Aroche, 1.7 kms from Galaroza. The village is shared between the municipalities of Galaroza and La Nava. It has approximately 30 inhabitants.
HISTORY
Las Chinas was granteda village title in 1553 by Carlos I.
In the mid-20th century, the population of Las Chinas was much larger than today. The village even had a teacher so that the children did not have to commute to school in Galaroza; however today that is no longer the case.
Currently, due to the continuing depopulation of the Sierra de Huelva, the houses are used mainly as second homes for holiday use.
THINGS TO SEE
Ermita de la Divina Pastora
Construction of the Ermita was ordered by Priest Don Pedro Munizand was completed in 1731. The image of the Divina Pastora is by Don Agustín Sánchez and dates from 1875. Located on Calle Concepcion HV-3111.
COUNTRYSIDE WALKS
As Las Chinas is so close to Galaroza, it too is ideal for lovers of rural tourism, especially hikers, with many paths of varying steepness surrounded by beautiful countryside. There are at least 40 routes available in the vicinity of Galaroza and can all be easily accessed from Las Chinas. A variety of flora and fauna can be seen in the area, including critically endangered bird species such as the red kite, Egyptian vulture, black stork and the black vulture. Mammals such as the marten, genet, mongoose, deer and wild boar can also be spotted.
GASTRONOMY
The gastronomy of Las Chinas is almost exactly the same as Galaroza, based on Iberian pork, like so many other villages in the Sierra de Aracena. Popular dishes include caldereta, made from potato, pork liver and pork ribs, and migas made with potatoes, wine, garlic and sardines, as well as wild ceps. However, Las Chinas has no bars or restaurants to try any of these dishes.
FESTIVALS
Fiestas de la Divina Pastora
Celebrated the first weekend of June. A mass is held on Saturday afternoon and at night an orchestra is installed in the square, and the village becomes a place of music and dancing. On Sunday, a huge garbanzada (chickpea stew) is cooked by locals and after lunch people sing sevillanas (traditional flamenco-style music and dance of Seville), and the party continues.
LOCATION
Las Chinas is 102 kms from Huelva. Take the A-49, leave at exit 75, towards Trigueros. Then take the N-435 and the N-433 towards Galaroza. Take a left turn onto HV-3111 to Las Chinas.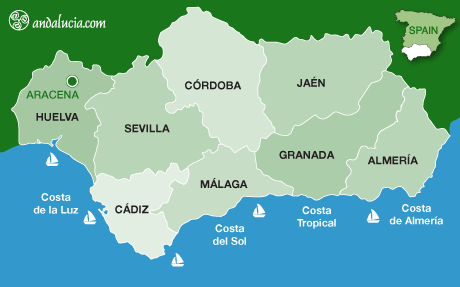 Destinations