Tucked away on the southwestern edge of the park is Almonaster, one of the most quaint villages of the Sierra. It has a magnificent hilltop mosque dating from the 10th century situated in amongst the ruins of a castle.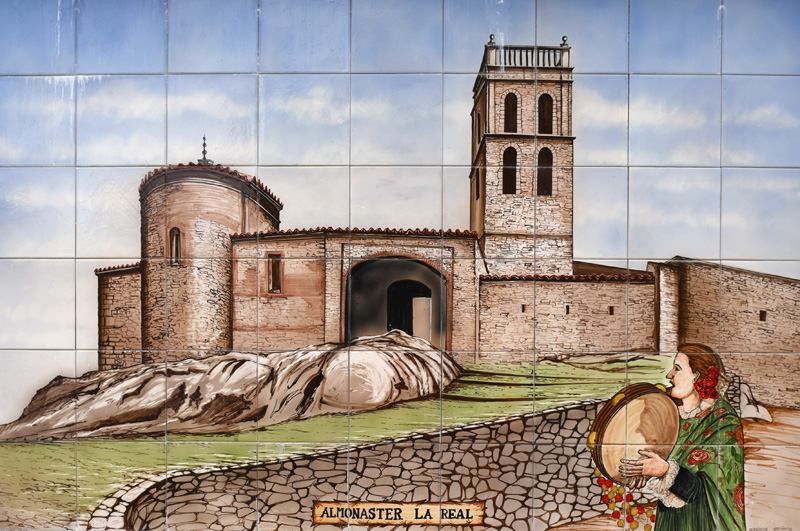 The mezquita's mihrab, the prayer niche facing Mecca, is the oldest example of its kind in Spain. Inside the well-restored interior are five naves, the mihrab and many arches supporting the ceiling. Examples of many different building stages, some dating from Roman and Visigoth eras, remain. More>
Next to the mosque is a small bullring with dry stone walls, typical of the Sierra de Aracena.
The village's 14th-century Iglesia de San Martín has an impressive Mudéjar doorway, the Puerta del Perdón, bordered by an elaborately decorated archway. On the main square is the small Baroque Ermita de la Trinidad, built in the 18th century.
Festivals and Fiestas 
Almonaster is famous for its Cruces de Mayo festival during the first week in May. Women wear traditional Serrano dresses that are brightly coloured and carry big bouquets of flowers.
The village's tiny paseo and mezquita is the perfect setting for an atmospheric four-day Islamic festival held in October, with stalls, music and performances.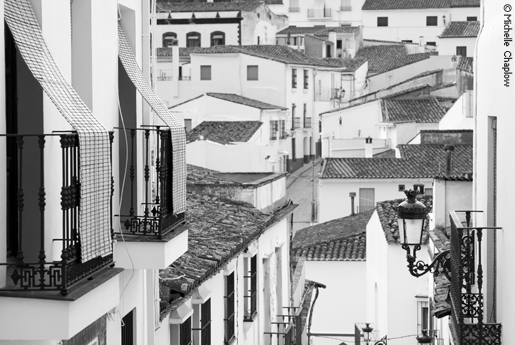 The narrow, quiet cobbled streets are lined with small houses and their distinctive protruding casement windows.
Stroll around the cobbled streets
The narrow, quiet cobbled streets are lined with small houses and their distinctive protruding casement windows. Bright bougainvillea cascades down whitewashed walls making this one of the most picturesque villages in the Sierra.
You can walk or drive up the second highest point of the Sierra, the Cerro de San Cristóbal (917m), for some of the best panoramic views in the area.
Accommodation & restaurants
There are a few places to stay, including the Casa García hotel with a good restaurant, while nearby are two good places to eat, Bar Las Palmeras with a leafy, attractive terrace and the more upmarket Rincón de Curro. Near the Almonaster railway station are the Casas-Rurales Los Gallos, a collection of charming self-catering cottages.
Walks
There are several walks around Almonaster. A linear route of around three hours follows the PR A-5 footpath, which starts from the road to Cortegana 1km out of the village. It goes to Cortegana via the hamlet of Varedas. Off the road a kilometre out of the village towards the N435 is the steep path up to the Cerro Cristóbal.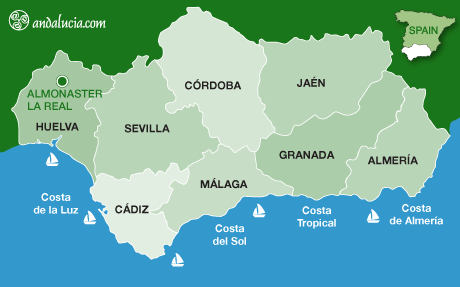 Destinations