Rosal de la Frontera
by Chris Chaplow

This is the "last town" before the border (la frontera) with Portugal, which is only a few kilometres to the west. It lies on the N-433 road, which runs through the centre of the town.
Rosal is a useful stopover for those travelling to or from Portugal - you can buy jamon serrano and other local produce. A relatively modern town, it was founded in the early 19th century, and is situated on rolling farmland.  If you're travelling through, stop by the very large Plaza de España which  straddles the main road, and visit one of the many bars.       
Things to see
"Iglesia Parroquial San Isidro Labrador" with its 17th century image of the Virgin Mary located in Plaza de España.

Casa de la Cultura, which was the municipal jail - its most famous prisoner was poet Miguel Hernández; his cell is preserved and there is a small museum. Hernandez (1910 Orihuela - 1942 Alicante) was a poet and playwright associated with the Generation (19)27 and '36 movements. After the civil war in 1939 he fled to Portugal due to his communist beliefs, but was arrested and handed over to the Spanish Guardia Civil at the border, hence his time in the Rosal de la Frontera jail. In Madrid he was sentenced to death which was later commuted to 30 years, however he died of tuberculosis in prison in Alicante aged just 31.
In the farmland around the town, you can see medieval windmills.  
HISTORY
Bronze age settlements exist in the surrounding countryside. The most important megalith is located in Pasada de Abad, with another on the south side of the N-433 a few km east of the town, near the River Chanza bridge. You can see walls from the Chalcolithic period (Bronze Age) on the nearby hill called Cerro de las Abejas; other sites include Cortelana and Cerro del Castillo.
Local customs
Local handicrafts include embroidered tablecloths and wooden spoons.
The local gastronomy features gazpacho de culantro or caldillo de matanza and, for dessert, rosas de miel. Rosal's most important festival is the Romería de San Isidro Labrador in May; and in honour of the poet Miguel Hernández cultural days are held each year. 
The village is 100 km from Huelva city and 50km from Aracena on the N-433. The previous town on the road is Aroche.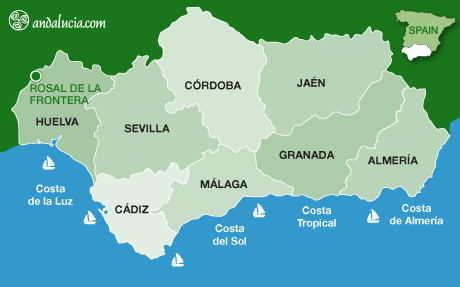 Destinations