Cordoba Province
The countryside of Cordoba province is extremely varied, from rolling plains around Cordoba city, the Guadalquivir basin and south to Seville province, to forbidding mountain ranges with jagged peaks in the north and west. Dotted around the province are many pristine whitewashed villages with Baroque churches, Moorish castles and flower-festooned courtyards.
It´s a region famous for both its dry white wines, similar to sherry but fruitier and produced mainly from the Pedro Xímenez grape, and olive oil; vineyards and olive groves being a characteristic feature of the landscape, especially south of Cordoba.
Cordoba City
Cordoba was founded by the Romans and due to its strategic importance as the highest navigable point of the Guadalquivir River, it became a port city of great importance, used for shipping Spanish olive oil, wine and wheat back to Ancient Rome. The Romans built the mighty bridge crossing the river, now called "El Puente Romano". But Cordoba's hour of greatest glory was when it became the capital of the Moorish kingdom of El-Andalus, and this was when work began on the Great Mosque, or "Mezquita", which – after several centuries of additions and enlargements – became one of the largest in all of Islam.
Areas to explore in Córdoba province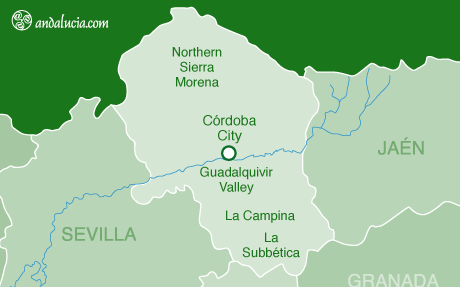 Natural Parks and Natural Monuments in Córdoba province
Destinations