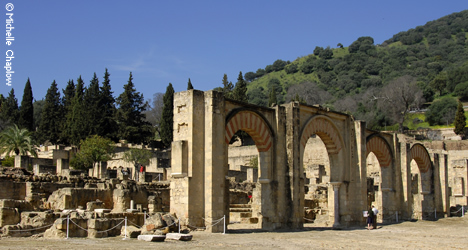 Central Guadalquivir Valley
Book Hotels in Central Guadalquivir Valley
The Río Guadalquivir flows slowly westwards towards Seville through the fertile heart of Cordoba province, with some interesting towns situated on the river plain.
On its banks is the provincial capital of Cordoba, established by the Romans but most famous for its Moorish heritage. In the 10th century it was the western capital of the Islamic empire. Today, it is a friendly city popular with visitors to its celebrated mezquita (mosque). Next to the mezquita on the riverbank is a woodland wildlife haven in the heart of the city centre, Los Sotos de la Albolafia Natural Monument.
A few kilometres northwest of Cordoba is the ruined Moorish palace of Medina Azahara. Further downstream is Almodóvar del Río, with an impressive hilltop castle looming over the town. From the castle are superb views of the Guadalquivir valley. Palma del Río is also worth visiting, especially for its 15th-century monastery, now converted into a sumptious hotel, the Hospedería de San Francisco.
Destinations