Sierras Subbeticas de Cordoba
The Subbetica of Cordoba is an area of cultural, natural and historic interest in the southern part of the province of Cordoba. It takes in fascinating towns like Priego de Cordoba, Cabra or Baena and villages like Zuheros, Luque and Iznajar.
Geographically, it's in the heart of Andalucia, almost equidistant from the major towns of Cordoba, Granada, Seville, Jaen and Malaga. It´s been a melting pot and cradle for various civilisations over eight thousand years, and bears patient exploration. If there is an archaeological museum where you end up, visit it. You'll find fascinating exhibits, from Neolithic implements and Iberian statues to magnificent Roman mosaics and Moorish pottery. Information on the stands can be sparse, and is generally not in English, so if you can muster some Spanish, ask the curators about the exhibits- you´ll be amazed.
Spectacular baroque churches are another feature of the Subbetica, untold artistic riches nestling behind the modest church facades in many of the towns and villages. They´re not always open to the public at convenient hours, but you can always find out when Mass is taking place.
The Sierras Subbeticas Natural Park for wonderful walks and exploration. Spectacular views, caves complete with prehistoric paintings and rich flora and fauna are just some of the joys of this area.
Local customs are richly varied too, with spectacular experiences in store for the visitor in Holy Week, and colourful fiestas and romerias (pilgrimages) all year round.
Local gastronomy reflects centuries of influence from Romans, Arabs and Jews. The matanza (the slaughtering of the family pig) still takes place with all its resulting products, delicious sausage and black pudding. Kid is a speciality too, with the herds of goats also providing cheeses of superb quality. Don't miss the fine wines and liquors (based on anise) of this region, along with unique sweetmeats and quince jelly.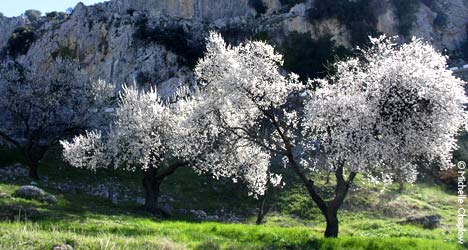 Southeast of Aguilar de la Frontera, on the border of the dramatically rugged limestone peaks of the Sierras Subbéticas Natural Park, is the attractive town of Cabra, which has many interesting sights, including an archaeological museum and various churches and mansions. If you want to find out more about the Sierras Subbéticas, there´s also a visitors´ centre for the park here. Further south still is the large town of Lucena, well known for its numerous furniture workshops. It´s also worth stopping to explore its remarkable historic centre, with many fine examples of Baroque religious architecture.
In the southeastern corner of Cordoba province and on the northern edge of the Sierras Subbéticas is the mountain village of Zuheros, in a spectacular cliffside position with its intriguing Cueva de los Murciélagos (Cave of the Bats). Just east of Zuheros and also in the park is the pretty village of Luque, perched on a rocky outcrop and crowned by a castle. Seven kilometres north of Luque is Baena. Linking Zuheros and Luque and continuing southwest around the park to Cabra and Lucena, is the Vía Verde of the Subbética, an attractive walking and cycling route along the course of a former railway line. Overlooking the Sierras Subbéticas is the delightful Priego de Cordoba, a beautiful town renowned for its outstanding Baroque churches, some of best in Andalucia, and a magnificent fountain.
South of here is Iznajar, located on a promontory and transformed by the creation of a massive reservoir on its doorstep. As well as being a great place for a walk, swim or picnic, you can also go canoeing or sailing on the reservoir.
Villages
Book Hotels in Sierras Subbéticas
Parks
The Sierras Subbéticas Natural Park is a stunningly beautiful, rugged park located in the heart of Andalucia between the three great cities of Cordoba, Granada and Seville. It lies within a… More →
The Cueva de los Murciélagos (the Cave of the Bats) is a system of caves situated on the edges of the limestone Sierras Subbéticas Natural Park, 4km from the attractive village of Zuheros. Of the… More →
The Via Verde Subbeticas is a southern extention of the Vía Verde of the Olive Oil that originates in Jaen city. The Via Verde Subbeticas covers 56 km, much of it on the fringes of the limestone… More →
Destinations