ALMEDINILLA
One of the most unique elements of Almedinilla is the way locals keep the flies and heat out of their homes. Traditional houses across Andalusia usually have plain metal or cloth curtains hung over the doors, however, in this town, you will see colourful curtains featuring interesting handmade decorations and hunting scenes. Almedinilla has around 2400 inhabitants.
HISTORY
There is a distinct lack of data on prehistoric periods in Almedinilla, since archaeological research has been limited. There is evidence of a settlement dating back to the Middle Paleolithic period (100,000-35,000 BC), implied by several findings along the Caicena River. It is suggested that people settled in the area throughout the Bronze Age, through to the Roman period. The land was conquered by the Christians in 1341, at the hands of Alfonso XI.
The current population of Almedinilla emerged from that of Priego de Córdoba at the end of the seventeenth century, and under the influence of policy which favoured the colonization of the Señoríos and communal lands. In 1844, Almedinilla obtained its administrative independence from Priego de Córdoba and was granted its own Town Hall.
Whilst crime by bandits was always present in this area, there was a spike in such activity during the eighteenth and nineteenth centuries due to the unfavorable socio-economic and political situation. Industrial development came in the form of the eight flour mills along the Caicena River in 1798, many of which were transformed to oil mills.
THINGS TO SEE
Iglesia Parroquial de San Juan Bautista
This church was built in 1769. Today, however, only the seating remains of the original building. The current structure was built in 1978. The seventeenth-century crucifix stands out, as well as the image of San Juan Bautista, made in Alonso de Mena's workshop around 1630. The church is located on Calle Iglesia.
Torre del Reloj
One of Almedinilla's most emblematic monuments is the great clock tower, dating from the Second Republic, which consists of a brick tower crowned with green tiles. The tower can be seen from any point in the town, and is located on Calle Médico Almagro, behind the Town Hall.
THINGS TO SEE OUTSIDE THE VILLAGE
Museo Histórico-Arqueológico
The Historical Museum was created by plenary agreement by the Town Hall on July 30, 1994, for the purposes of education, enjoyment and scientific knowledge. The museum is composed of a collection of archaeological materials, from both excavations and donations by individuals, which bear witness to the important historical past of Almedinilla. The collection is structured into two permanent exhibitions, one dedicated to the Iberian culture and another to the Roman culture and Necropolis of El Ruedo. Located south east of the town, off the Ronda de Andalucía.
Recinto Fortificado del Cerro de la Cruz
The Iberian town of Cerro de la Cruz occupies one of the typical limestone anticlines that make up the geography of this area. The archaeological site occupies an area of ​​about 50,000 square meters and contains the remains of walls and defensive structures. Archaeological excavations undertaken successively by Maraver, Paris, Engel, Navascués, Santa-Olalla and Vaquerizo have shown that it is an Iberian settlement, arranged in stepped terraces. The site can be found south west of the town.
Villa Romana El Ruedo
The archaeological site of the Roman village of El Ruedo consists of a well-preserved Roman villa and a burial necropolis. The necropolis dates from somewhere between the third and seventh centuries, and between 1988 and 1989, 132 burials were excavated, recovering 176 corpses, all of them without funerary boxes. The Roman village, unlike the necropolis, has no remains visible at present. Located north west of the town, off Paseo Alameda.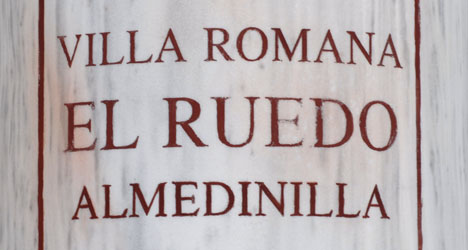 COUNTRYSIDE WALKS
Almedinilla offers some wonderful walking routes to discover the surrounding Sierra Subbética. Ruta Arroyo Granada and Ruta Salto del Caballo are easy routes of approximately 1.5km in length.
HANDICRAFTS
If you'd like to acquire something "Made in Almedinilla", look for hand woven baskets, furniture and homemade sausages.
GASTRONOMY
The local cuisine of Almedinilla is typically Mediterranean, taking advantage of local products. Try dishes such as gazpacho (chilled tomato, pepper and garlic soup), ensaladilla de pimientos asados (roast pepper salad), picadillo (tomato, cucumber and onion salad), remojón de naranja (orange salad), berenjenas fritas (fried aubergines), revuelto de collejas (wild spinach scrambled egg), mojete de espárragos (asparagus stew), patatas a la pobre (poor man´s potatoes), rabo de toro (oxtail), carrilladas en salsa (pork cheeks), choto al ajillo (stewed garlic goat), bacalao con tomate (cod with tomato) and boquerones en vinagre (pickled anchovies). Sweet treats include magdalenas (muffins), bizcoche de aceite (olive oil cake), roscos (aniseed biscuits), papuecas (doughnuts), palillos de leche (milk dough biscuits) and leche frita (fried milk custard).
FESTIVALS
Festivals that are popular in Almedinilla are Cabalgata Reyes Magos, Día de la Candelaría, Carnaval, Leyenda de "La Encantá", Romería de San Cristobal, and Feria Real. More>
NEARBY PLACES
The neighbouring villages to Almedinilla are Priego de Córdoba and Alcalá la Real.
Destinations