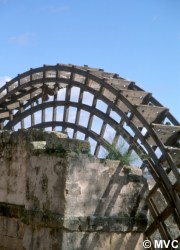 A reconstruction of the waterwheel
Molino de Albolafia
The Guadalquivir river-bed is wide enough for small islands which today are only inhabited by birds. Long ago there used to be flour mills, of which some remains can still be seen to this day. The one near the north river bank was called Molino de la Albolafia. It was named after Abu-l-Afiya and the waterwheel has appeared on Cordoban seals and other city emblems since the 13th century, was actually built by the Romans and has also been identified as the site for an old Almohad Palace. Abd al-Rahman 11 ordered a huge chain pump to be made in order to take water up to the Alcazar Palace Gardens, but Isabella, the Catholic queen, had it taken down so as to avoid its annoying squeaking noise. What may be seen today is a reconstruction but hopefully the mill will one day be restored again.
The nearby islands called "Los Sotos de la Albolafia" are now a protected Natural Monument. Unusually for a protected wetland site, the Sotos de la Albolafia are situated so close to the centre of a city.
The area is noteworthy for its fauna. It is an important refuge for threatened birds; 70% of birds here are protected by law, while a few species like the glossy ibis and the purple gallinule are on the list of endangered birds.
The site is easily accessible from the riverbank walkways between the two bridges of Puente Romano and Puente de San Rafael.
The sotos are made up of elm trees, tamarisk, poplars and eucalyptus. Along the edges of the river are reedbeds, reedmace and bulrushes. Around stone constructions along the river like bridges, walls and mill are fig trees and ivy.
About 40 species of birds have been recorded in the sotos, mostly over winter. The most numerous include the little bittern, little egret and grey, night, squacco and purple heron. There is a major colony of cattle egrets, which have recovered from low numbers of around 20 in the early 1980s more than 6,000 today.
Raptors include ospreys and lesser kestrels, the latter nesting nearby in buildings like the Mezquita and visiting the sotos to hunt. During migration there are black kites, short-toed eagles and often thousands of swifts. Waders, gulls and terns can also be spotted.
Hopefully the mills will one day be restored again.
Destinations