Cordoba Patio Dates 2023
2nd to 14th May 2023
(confirmed by Town Hall)

Traditionally first and second week in May.
Patios Festival in Córdoba
Every spring Córdoba bursts into bloom with special festivities for the month of May. Starting off with a parade known as the "Battle of the Flowers", the city officially launches into its spring celebrations with the May Crosses festival usually taking place during the first week of the month, followed by the Patio Contests that can easily continue well past the middle of the month – which just gives residents time to get ready for the annual fair at the end of May!
Patio Contest
The Patio contests is sponsored by the Córdoba City Hall and began in 1918. But to really understand why a contest of this type was created in Córdoba you must know something about the local architecture.
Due to a hot, dry climate homes in Córdoba were built with a central patio even back in the days of the Romans. This tradition was continued by the Moors and persists in many homes even today. Filling the central patio with plants and water features has always been a way to keep local homes cool. But, thanks to human creativity and ingenuity, patio decoration ended up taking on a life all its own and at some point, someone realised that these hidden treasures were just too good to be kept tucked away behind heavy doors and iron grates. So, once a year, the doors open and everyone is invited in to see the wonders of Córdoba's patios.
These patios not only offer a visual feast of colourful flowers, stone mosaics and ceramic decorations, but also bring out the classic scents of Córdoba: jasmine and orange blossom mixed with a myriad of scents from the many other flowers and plants that bring the city – and this festival – alive.
A vast range of patios await your viewing in Córdoba every year, with not only private, single-family homes opening their doors to show you the lovely courtyards around which their old-style homes centre. There are also larger, low-built, apartment-style buildings that have amazing courtyards where often many gardeners will work together all year to cultivate the special gems that are their shared meeting areas.
However, the patio displays go even beyond the wide array offered by the private sector to include numerous "monument" patios. For example, the Viana Palace, a 14th century edifice, is actually known as the Patio Museum and offers around 12 different patios to its visitors. It has also been classified as an official "Historic Garden" and is high on the list of recommendations for those wishing to see the best of Córdoba.
There are numerous convents and religious buildings in Córdoba with must-see patios and these include: the Encarnación, Santa Isabel de los Ángeles, Las Capuchinas, Santa María, Santa Cruz, Jesus Crucificado, Nuestra Señora de las Nieves, Corpus Cristi and San Pedro Real. There is also the "Círculo de la Amistad" building and the "Facultad de Derecho" (law department) at the local university.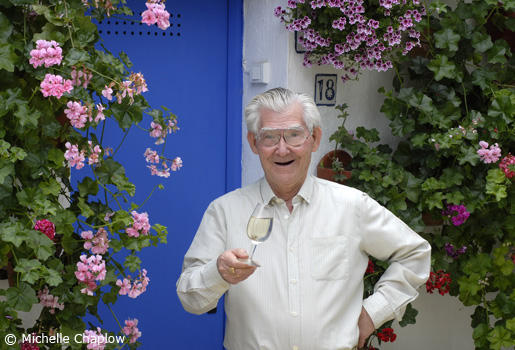 Fun for all the family at the Cordoba Patio Festival.
As would be expected, the May Patio Contest in Córdoba is more than just a contest. At the city's tourism website, it is officially the "Córdoba May Patio Festival" and, true to form, the locals offer a host of entertainment throughout this spring celebration. Some of the best names in flamenco are known to travel to Córdoba this time of year to add sound to the sights, smells, textures and tastes enjoyed by locals and visitor alike. Yes, Córdoba is genuinely a feast for all five senses this time of year – but don't miss the year round sights to see in Córdoba while you're there.
Practical info for tourists
The 50 or so Patios from the competition are freely open to the public. View this interactive map or download a list and a map (or pick up one for the tourist office) and devise your own route. There is no entrance charge but there is a collection box by the door for a tip. The Patios have unusual opening hours, they closed between the hours of 2pm until 6pm in the afternoon. Locals will tell you that they need to have time to spruce up their patios and take the essential Spanish siesta, so beware that you don't miss out on this amazing festival. The patios are always open from 11.30am to 2pm and from 6pm to 10pm; some will remain open later on Friday and Saturday. Last day closes at 20.30 hrs.
Patios at other times of the year.
Since 2012 a smaller selection of Patios have been open to public over Christmas from about 19 December to 4 January.
The Palace of Viana: Museum of the Patios has beautiful patios and is open all year round.
Small group visits to a selection of Patios can be made by appointment with a local tour guide a any time of the year. Book a tour below.
Tickets
The patios are free and there are no tickets. (In 2013, 2014, 2015 there was a free online ticketing system for Fridays, Saturdays and Sundays which has been discontinued).
Festival programme
There is also a festival of several music and dance performances every single day during the pation contest. Many of these take place in the patios and are free, others in municipal buildings and tickets must be purchased. Here is a link to the programme on the Patios website.
IN THE PRESS
In September 2013, the New York Times ran a story on the Patios of Cordoba, citing this page of Andalucia.com as a source of information. The article was entertainingly titled Patios as a Competitive Sport? It Must be Cordoba.
Here is a taster: "Many residents enjoy showing off these areas (patios), which are generally configured like walled courtyards. While passers-by often can glimpse them through traditional wrought-iron verjas, or gates, about 40 of the most spectacular examples are opened to the public every year, usually in the first two weeks of May, as part of the Festival of the Patios.
This year the event, which was recently added to UNESCO's cultural heritage list, recorded more than two million visits to the sites. Visits to the patios have become so popular that some are being opened during the Christmas season."
Additionally, a report by the Irish Independent Weekend Magazine recommended this Andalucia.com article as a source of information about the May Patios in Córdoba.
"Every year, the gorgeous Spanish city of Cordoba throws open its courtyards to the public, revealing a visual feast of colourful flowers, stone mosaics and striking water features. Tucked behind heavy iron gates for most of the year, the patios release the exotic scent of jasmine and orange blossom into the air. Must-sees include the numerous monument patios and convent courtyards, such as Santa Isabel de los Angeles, Las Capuchinas and Santa Maria."
Most beautifully decorated patio contest.
Destinations