Alfarnate Cherry Festival
Alfarnate Cherry Festival Dates

Sat 25 June 2022
(XV edition, Confirmed by the Town Hall)

The annual Festival de la Cereza in Alfarnate is worth travelling to this lovely village located east of Antequera.
The Festival de la Cereza usually takes place on the third Saturday in June. It is a well-organised event with several stalls set up in the town's "polideportivo" sports centre where you can buy large flats of top quality local cherries at rock bottom prices. But that's not all!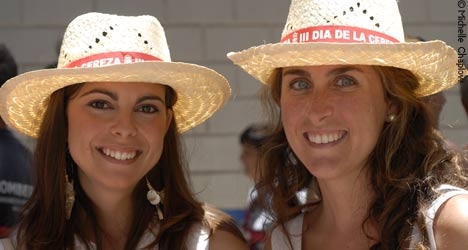 As might be expected, this festival includes much more than those most fabulous local cherries. In fact, you'll find plenty of local products on display and for sale. And traditionally, there's plenty of free food and drink to go along with it. Past festivals have included free soft drinks and beer to accompany free plates of rice, steaks and other goodies.
You'll have a chance to practice your Spanish when it comes time for speeches by prominent locals. And then comes the music and dancing. The people of Alfarnate definitely know how to celebrate the cherry picking season.
More about village of Alfarnate.
Destinations