Christmas Festivals in Spain
Christmas brings great cheer across Spain as families prepare to spend the Season together over one elaborate meal after another. Every year Andalucia.com brings you a special look at Christmas and this year it no different.
Read on to discover all the great festivals and holidays of the Spanish Christmas season in addition to Spanish Christmas recipes and ideas for tracking down gifts "Made in Spain" and Andalucia-based charities that will welcome your goodwill at this time of year – and throughout the year as well!
Nativities Scenes
The nativity scene – or "Belén" (Spanish for Bethlehem) has special significance in Spain where organisations, groups of co-workers, families and students across the country work together to create elaborate re-creations of the scene of Jesus' birth. Many public displays, contests and even "living nativities" are on all over the country in small villages and large cities. Ask your way to the nearest one. And read our account of Christmas in Andalucia to discover more about this and many other Spanish traditions at this time of year including links to worthy local causes that will appreciate your support.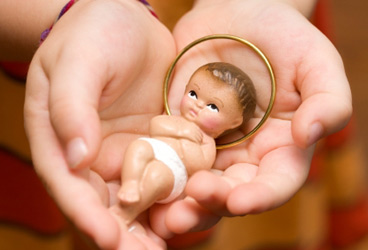 Belen Viviente
One of the most delightful features of Christmas in Andalucia are the belenes vivientes, or living (live) nativity scenes, where many of the townsfolk dress up as characters to take part, using the town's streets, houses and plazas as their stage set, starring alongside four-legged actors - sheep and donkeys. Cadiz province is famous for its belenes vivientes.  More>
Christmas Eve in Spain
Christmas Eve and Christmas Day are generally celebrated as a family with one rich meal after another served from mid-day on Christmas Eve through late night Christmas Day. Again, learn about Spanish Christmas meals in detail in our article on Christmas in Andalucia. Here we'll also point the way to gifts Made in Spain.
It is possible to dive in and do a little seasonal Spanish style cooking – if you have the right recipes. You can access a few Spanish Christmas recipes here at Andalucia.com. We even have a special contribution by one the mother of one of our Spanish staff members, a family recipe for making the famous "Roscos Navideños".
One of the more vibrant Christmas celebrations in Spain takes place in the gypsy community – known for its passion, close family ties and wonderful musical traditions. Get the inside scoop on a genuine gypsy Christmas in our first hand report.
All Fools Day
In Spain, All Fools Day is known as "Día de los Santos Inocentes" and takes place right in the middle of the long Christmas season (which runs all the way through to January 7, the Epiphany). On December 28 it's your turn to play your favourite jokes on friends and family! Read about the origin of this day.
Verdiales Music Festival of Málaga
Now this is something you probably won't ever experience outside Spain. The Verdiales Festivals are something to see with bright costumes and lively Spanish folk music. Traditionally the contests take place on December 28. However, nowadays it's possible to enjoy verdiales performances at some fairs and festivals throughout the year. Read a full report on Verdiales Festivals.
Epiphany – Los Reyes Magos – Three Kings
Higuera de la Sierra, a monument to the Reyes Magos
Just when you thought you couldn't bear to think about Christmas until next year, everyone is out in the streets, packing the shops in search of gifts "from" the Three Kings (the three wise men). Read more about the Three Kings Celebration in Spain in this full report.
The remote village of Higuera de la Sierra is famous for its procession of the Three Kings.
A village worth visiting, especially on the magical night of the 5th of January, here the community act out scenes from the bible, the event is considered totally unique in Spain.
Remember, in Spain, Christmas is not for the faint of heart. This is a marathon. So brace yourself and:
¡Felices Fiestas!