Vendimia Festivals 
In most wine-growing districts of Andalucia and Spain, the vintage or grape harves begins on the feast of St Matthew (21st September). In Jerez it starts officially on 8th September, the feast of the Nativity of Our Lady. The first grapes may be picked a week or two early, especially if the weather has been very dry and sunny. The harvest lasts about a month.
Sherry Harvest, Jerez
The most important Vendimia festival takes place in Jerez de la Frontera.  The Jerez Vendimia festival with numerous events takes place over one week traditionally starting on the 8th September.  These are the traditional dates which vary slightly each year. The only way to be sure of the festival date is to check with the organisors which usually the 'departmento de cultura' (culture department) of the local town hall. The Town Hall website is usually www.<town-name>.es
Málaga Province
Iznate, "Fiesta de la uva de Moscatel" 2 August (first Saturday of month)
Cómpeta, "La Noche del Vino"  15 August (every year)
Manilva, "Fiesta de la Vendimia" 1st weekend in September
Moclinejo, "Fiesta de Viñeros" 
La Viñuela, "Fiesta de la pasa" 13 to 14 September
Córdoba Province
Montilla, "Fiesta de la vendimia"  5 to 8 September
Cádiz Province
Jerez, "Fiestas de la Vendimia" 1 to 15 September
Seville Province
Villanueva del Ariscal, "Fiestas de la vendimia" TBC
Bollullos par del Condado, "Fiestas de la vendinia" 12 to 16 September
Sanlúcar Manzanilla (Wine) Fair
A lively fair dedicated to the Manzanilla which is a special dry sherry wine produced in Sanlúcar de Barrameda. This intense fair which is organised by the town council and supported by the local wine producers last for several days about the third week in May.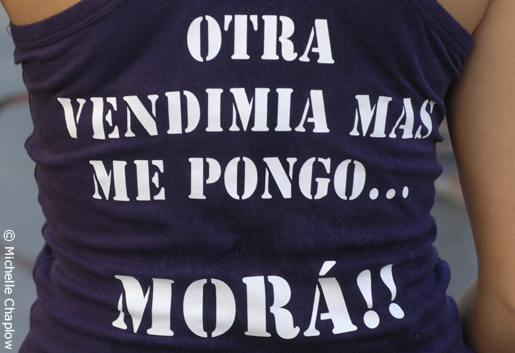 The locals get into the spirit of the venimia festival.