Sabinillas FESTIVALS
Between the beachside village of Sabanillias and the hillside town of Manilva, there are a really good selection of festivals and fiestas going on, throughout the year.
August Full Moon PArty (Luna Llena de Manilva)
Since 2011 Sabinillas has hosted a full moon festival every August on its beaches, with live bands, dancing, body painting, craft stalls and friends getting together on the beach for moonlight picnics. The full moon festival was inspired by the famous lantern and full moon festival in Koh Pha Ngan in Thailand, although this one is more family orientated.
The fiesta makes a beautiful sight, with almost everyone dressed in white, and the atmospherically town lit by flickering candles - and Chinese paper lanterns lit and launched into the sky. Cafes, restaurants and bars all open until the early hours, bands play on a stage erected on the beach,and you can also see sideshow entertainment such as jugglers and clowns. Several stands offer specially designed backdrops for selfie photos.   
Dates: Usually the Saturday nearest to the late July or early August full moon, Officially starts at 9pm but many arrive earlier since the bars and stalls are open all day. Sunset is at about 21.30 and moon rises over the sea at around 22.00. Due to recent years' popularity (perhaps 10.000 visitors), parking in the village is extremely difficult, so be prepared to park on the outskirts or feria ground (see location below) and walk.   
Due to the risk of fire in the countryside from the Chinese lanterns that blow inland on the sea breeze, this practice is now discouraged.
Manilva Fair (feria)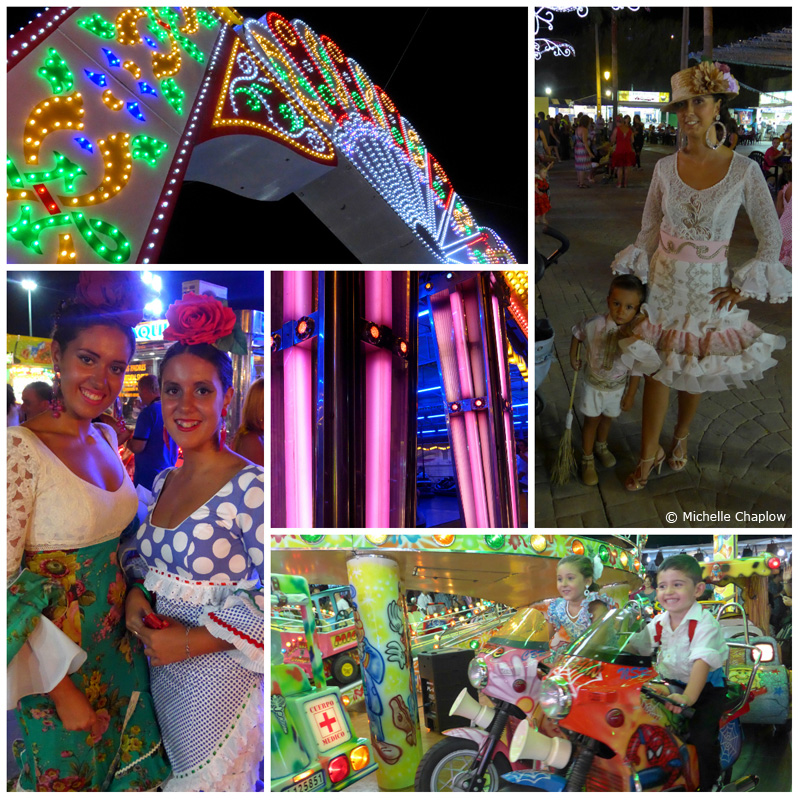 Second week in August. Dates 6-9th August 2015. Feria Ground is located on the 'Caretera las Baños' road that cuts inland from the A7 on the roundabout just west of the River Manilva. Map 
Verbena de San Luis
This is a festival in honour of San Luis the Patron Saint of the village of San Luis de Sabinillas. The saint´s replica is carried around the village streets at 08.00 on the morning of 25 August 2015. At 20.00 there is a mass followed by music and dancing in Plaza Vincente Espinel.
Verbena de la vendemia, Manilva. ( grape harvest celebrations)
Traditionally the first weekend in September (4-6 September in 2015). Celebrations include a flamenco show on the Friday night, a mass and a procession on Saturday evening accompanied by the municipal band and the feria queens. In Calle Mar, Manilva, the farmer who has cultivated the largest bunch of grapes is rewarded with a prize. At 22.30 the music and dancing begins.
Sunday is the grand finale of the festival with dancing around the Plaza de la Vendemia to today's pop music. At 17.00 you can see a horseback procession  and the traditional treading of the grapes - then the music and dancing goes on until the early hours.
HOTEL
For more information on hotels and accommodation in Sabinillas, click here. 
Destinations