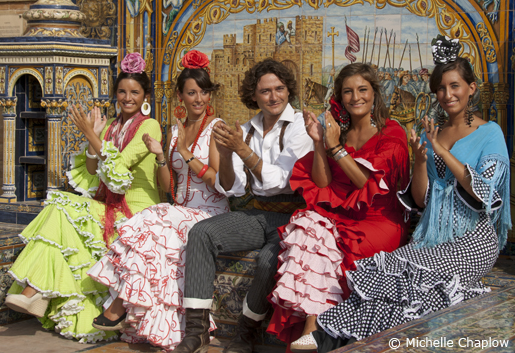 The Feria de Abril is a highlight of the Andalucian Feria calendar.
Jan | Feb | Mar | Apr | May | Jun | Jul | Aug | Sep | Oct | Nov | Dec
Festivals - A Month by Month Guide
In Andalucia, there's a party every day - whether it's to celebrate a harvest (mostly in the autumn - grapes, olives, chestnuts, mushrooms) - a saint's day, or the town's own annual feria, when every town and village puts on a show, with casetas, sherry and dancing. Over 3,000 fiestas are celebrated every year in Andalucia, including fairs, pilgrimages, carnivals, mock battles between Moors and Christians. and religious processions, throughout the 800-odd communities of the region.
Each town and village has its own patron saint and yearly procession, feria and often a romeria (pilgrimage) too.
Here we've compiled a month-by-month guide to all the major festivals in Andalucia, from children's favourite Los Reyes Magos, to music, dance and film festivals, and major sporting events.
Jan | Feb | Mar | Apr | May | Jun | Jul | Aug | Sep | Oct | Nov | Dec