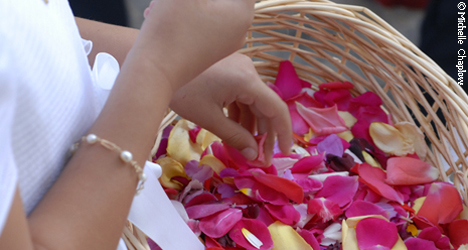 Jan | Feb | Mar | Apr | May | Jun | Jul | Aug | Sep | Oct | Nov | Dec |
Traditional Events - month by month - June
Andalucia is filled with fascinating cultural events throughout the year. Whilst many of these festivals take place on the date indicated each year, others move slightly in relation to the day of the week or the religious calendar or occasionally weather.
Summer Ferias continue in June. Some are below, also check our list of Summer Fairs.
In order to confirm, the villages town hall website (www.villagename.es) or Facebook page may publish the date or a poster in the few week preceding the festival.
summer fairs
Various Dates - June,
Towns across Andalucía
Every town and village in Andalucia has its own feria or fair, and it would be possible, if one had superhuman powers of endurance, to spend the whole summer following them about the region. See our section on summer fairs for dates.
Fiesta de moros y cristianos

Various Dates - June,
Towns across Andalucía
This festival is more popular in the East of Spain, in Andalucia in the provinces of Granada and Almeria, It takes place on different many days through out the year depending on the locality. Check out our section on the Moors and Christians Festival to find out which towns celebrate it this month.
Feria de la manzanilla (Feria de Sanlucar)

Traditionally 28 - May - 2 June,
Sanlucar de Barrmeda, Cadíz
Sanlucar's feria is made all the more enjoyable by being able to partake of its very own tipple: manzanilla, a light, dry sherry, which is only made in the town. The feria ground is along the seafront – a top spot for appreciating some chilled manzanilla with some famous Sanlucar prawns.
Feria de san bernabe

Traditionally 6-12 June,
Marbella, Málaga
All the usual festivities in honour of the town's patron saint, St Bernard, including a Feria King and Queen contest, which takes place the week before the feria itself. Inauguration is on the Sunday, with fireworks. Two different locations, for day (old town) and night (near La Cañada shopping centre).
FIESTA DE SAN ANTONIO

Traditionally 10-14 June,
Towns in Andalucía
Celebrated in Alfarnate, Archidona, Canillas de Albaida, Frigiliana, Iznate and Pujerra. In some places people walk up a hill to search for the saint and then forming a procession back down to the local church.
The Alfarnate Cherry Festival
Traditionally around 18 June,
Alfarnate, Málaga
Celebrate the cherry-picking season traditioinally on the third Saturday in June in this Malaga hilltown, in the Axarquia region.
ROMERIA AND FIESTAS DE SAN ANTONIO
Traditionally 18-19 June,
Aljaraque, Huelva
RomerÍa Nacional de los Gitanos
Traditionally 19 June,
Córdoba
The "Romería Nacional de los Gitanos", or National Gypsy Pilgrimage" takes place the third Sunday in June and attracts not only gypsies, but also "payos" (non-gypsies).
FERIA DEL CORPUS
Traditionally 20-26 June,
Granada
Granada's spring feria, which is timed to incorporate Corpus Christi on 23 June (see below).
FERIA REAL DE ALGECIRAS
Traditionally 20-28 June,
Algeciras, Cadíz
Corpus Christi
June,
Towns in Andalucía
This festival celebrates the presence of Christ in the holy water. Especially famous are the celebrations in Granada and Seville, where six choirboys in period dress perform the dance "Los Seises" in the cathedral. Other towns and cities famous for their Corpus Christi festivals include Cadiz, Malaga, Marchena and Zahara de la Sierra (Cadiz). Some towns wait until the Sunday for their celebrations. It is held in either May or June depending on when Easter occurs. To calculate the next Corpus Christi date, look for the first Thursday after Trinity Sunday (the eighth Sunday after Easter).
Noche de San Juan
24 June,
Towns all over Andalucía
The Night of San Juan is a celebration that is usually held on the beach with roaring bonfires, drink, food, and friends. It can be a memorable, almost surrealistic scene and one that needs to be experienced.
This night is celebrated in Alfarnate, Algatocín, Alhaurín de la Torre, Archidona, Benalmádena, Cártama, Casabermeja, Colmenar, Cuevas Bajas, Cútar, Fuengirola, Genalguacil, Humilladero, Jubrique and Nerja.
ROMERIA DE LA AMISTAD
Traditionally 25-26 June,
San Bartolome de la Torre, Huelva
July continued >
Jan | Feb | Mar | Apr | May | Jun | Jul | Aug | Sep | Oct | Nov | Dec |